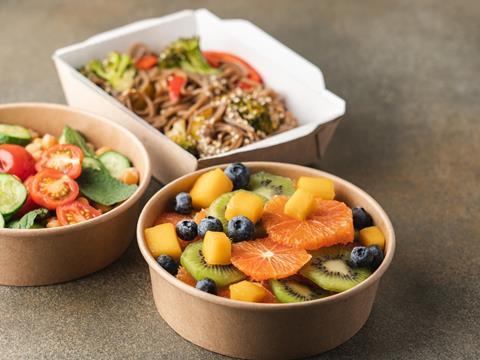 Kemira and Jain Chem are jointly developing aqueous barrier coatings for recyclable paper and board products – a move expected to replace the use of PE and PFAS in paper and board end-use applications.
Primarily designed for food service packaging, the barrier solutions are set to provide moisture, oil, and grease resistance for cup stock, wrapping paper, folding carton packages, and more. They are said to be both microwavable and oven-safe, as well as suitable for frozen food.
Jain Chem's barrier technology centres on recycled raw materials and apparently develops end products that are both recyclable and repulpable. Its partnership with Kemira hopes to result in a 'next-generation' chemical-based solution portfolio that meets evolving customer requirements, enhances recyclability for existing paper-based packaging, and facilitates the creation of new fibre-based products in place of single-use plastic alternatives.
Rapid growth for aqueous barrier coatings is anticipated to take place in the Americas, where the companies note that consumers and brand owners are turning their attention towards sustainability-minded packaging solutions.
"By further developing this partnership, we can supply our existing customers, the paper and board manufacturers, as well as the converters in the packaging value chain with a variety of innovative barrier solutions," says Jim Rettinger, SVP, Commercial for Kemira Pulp & Paper Americas (interim). "Together we can provide the technical resources and product technology that allow our customers to develop and launch new products for their customers, while supporting their sustainability targets."
"Jain Chem is pleased to partner with Kemira to achieve our mutually held objectives to improve value for our customers and their customers, while making a dramatic, positive impact on the circularity and sustainability of packaging," adds Manoj Jain, CEO, Jain Chem, Ltd. "By combining the use of our respective technical and commercial capabilities, these improvements can be driven at an accelerated rate to all the stakeholders in the packaging value chain."
Other partnerships have recently been announced in the pursuit of sustainable coating technologies, including Trinseo and RWDC Industries LLC's exclusive agreement to market and develop PHA dispersion technology and a collaboration between ProAmpac and Hochschule der Medien Stuttgart to develop high-performance, curbside recyclable coated paper technologies.
Meanwhile, Siegwerk and Henkel's printable oxygen barrier coating is a finalist under the pre-commercialised Recyclable Packaging category at this year's Sustainability Awards.
If you liked this article, you might also enjoy:
McDonald's Director of Sustainability in Europe on the company's approach to packaging sustainability
McKinsey on whether or not on-pack sustainability claims affect consumer spending
Perspectives from industry-leading experts on the EU's Packaging and Packaging Waste Directive revisions
A deep dive into the most important packaging sustainability trends and solutions