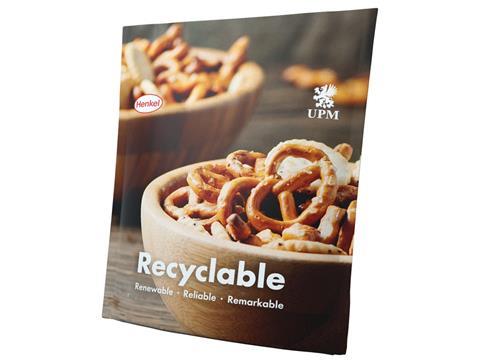 Henkel and UPM Specialty Papers revealed two recyclable, heat-sealable barrier paper solutions for food and non-food packaging applications at interpack 2023.
Created in a joint development between the two companies, the solutions combine Henkel's coatings with UPM's packaging papers to create a material claiming to offer 'an unsurpassed level' of grease resistance. The paper coatings can apparently be applied to a range of substrates and is thought to allow both easy recycling and the recovery of fibres in pursuit of circularity.
The barrier paper aims to offer an alternative to plastic packaging, with experts from Henkel and UPM Specialty Papers using a dedicated Happy Hour at the latter's interpack stand to demonstrate its heat sealability. The demonstration utilised Henkel's Loctite Liofol HS 2809-22 RE with UPM Asendo 90 g/m2 paper and a solution that combined barrier coating Aquence EPIX BC 6134 and UPM Asendo Pro 90 g/m2 paper.
"At UPM Specialty Papers, we are working closely with innovative partners to create transformative solutions that reimagine the future of sustainable packaging," said Mika Uusikartano, senior manager of Product Portfolio Management. "Working alongside Henkel with a shared focus on creating sustainable alternatives, we have co-created a recyclable, heat-sealable packaging material that is compatible with existing packaging lines.
"By combining our respective expertise, we are jointly creating barrier paper structures and pushing their performance to an unsurpassed level of grease resistance, while providing converters with a tried and tested concept."
"As the packaging industry and wider society work to take on urgent environmental challenges, it is essential that we collaborate across the value chain to rapidly deliver solutions," added Christin Noack, market strategy manager Europe at Henkel. "The solutions created with UPM – and successfully presented together at interpack – embody this spirit of collaboration.
"The creation of packaging and processes to effectively combine paper with barrier and heat seal coatings required close collaboration with our partners at UPM over a lengthy joint development process to identify and optimise the right fibre-based substrate and coatings combination. Together, we are enabling paper to achieve unmatched barrier performance while meeting the demand for more sustainable packaging.
"These paper innovations provide packaging manufacturers with turn-key solutions to significantly reduce their own development time when bringing new products to market and we were delighted to see this solution so well received by visitors to interpack."
Another collaboration between UPM Specialty Papers and SN Maschinenbau – a recyclable, renewable, fibre-based pouch for dry, frozen, and greasy foods created with horizontal pouch machinery – was on display at interpack this year.
Additionally, Huhtamaki presented its mono-material flexibles made of paper, polyethylene, and polypropylene, while Biotec revealed two new grades for food-grade films and thermoforming applications.
If you liked this article, you might also enjoy:
McDonald's Director of Sustainability in Europe on the company's approach to packaging sustainability
McKinsey on whether or not on-pack sustainability claims affect consumer spending
Perspectives from industry-leading experts on the EU's Packaging and Packaging Waste Directive revisions
A deep dive into the most important packaging sustainability trends and solutions