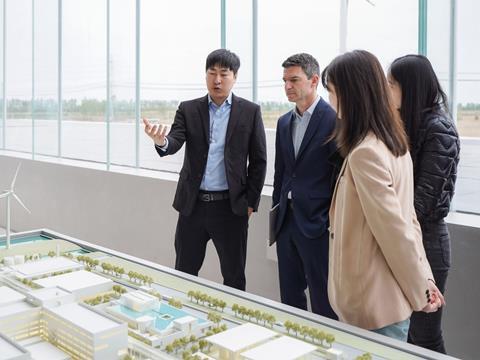 Bluepha Co. and TotalEnergies Corbion have signed a memorandum of understanding (MOU) to bring together knowledge and resources and encourage the adoption of PLA- and PHA-based solutions on the Chinese market.
The companies will combine Bluepha PHA with TotalEnergies Corbion's Luminy PLA technology in a bid to advance the development of high-performance biopolymer solutions. They will jointly promote PLA and PHA market applications in China under the terms of the MOU.
"We are very excited about this collaboration with TotalEnergies Corbion," said Dr. Teng Li, president and co-founder of Bluepha. "TotalEnergies Corbion is a trustworthy partner and Bluepha PHA mixed with Luminy PLA would be, as a Chinese saying, 'adding wings to the tiger'. Together, the two companies can give more opportunities to our downstream partners and contribute to a more sustainable future."
Thomas Philipon, CEO of TotalEnergies Corbion, continued: "By combining the complementary properties of these materials, we will significantly expand the application possibilities for brand owners seeking fully biobased material solutions."
Another business venture saw TotalEnergies Corbion, POSCO International, and ESOL work together to develop PLA recycling infrastructure in South Korea in line with the Korean Government's framework for Carbon Neutrality.
Furthermore, an exclusive agreement between Trinseo and RWDC Industries LLC is seeking to bring PHA dispersion technology to target markets for paper and board barrier coating applications.
TotalEnergies Corbion's Luminy High Heat PLA and Danimer Scientific's Nodax PHA have recently been incorporated into a TUV-certified coffee pod biopolymer that is thought to adhere to upcoming EU legislation surrounding biodegradability.
If you liked this article, you might also enjoy:
McDonald's Director of Sustainability in Europe on the company's approach to packaging sustainability
McKinsey on whether or not on-pack sustainability claims affect consumer spending
Perspectives from industry-leading experts on the EU's Packaging and Packaging Waste Directive revisions
A deep dive into the most important packaging sustainability trends and solutions