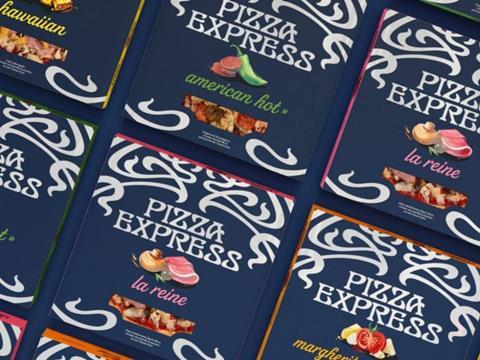 BRANDON has developed a new retail brand identity for PizzaExpress' chilled pizza portfolio – featuring a new packaging design, brand architecture, and masterbrand identity – to build upon the range of occasions on which its products are eaten.
Three range tiers have been developed from PizzaExpress' portfolio of Icons (American, Margherita, Sloppy Giuseppe) and Restaurant Favourites (La Reine, American Hot, Hawaiian, Margherita Formaggi, Pollo American, Pollo ad Astra) under a wider masterbrand identity. These are separated from one another by colour.
While the familiar connections between colour and product in the Icons range have been left intact – yellow for Margherita, blue for American, and red for Sloppy Giuseppe – the 'iconic blue' of the PizzaExpress brand has been applied to the Restaurant Favourite range, with illustrations of artistic brush strokes by illustrator Emily Simpson implemented to draw attention to the ingredients on top of the pizzas and 'evoke the Soho flair'.
"It was an absolute pleasure to collaborate with BRANDON in creating these joyful and expressive illustrations," said Simpson. "They combined two passions of mine - food and painting.
"The creative process was a lot of fun and involved composing hand-painted brush strokes and textures to bring all the delicious ingredients to life."
The filigree logotype, originally designed in 1967 by Italian designer Enzo Apicella, has also been revamped by lettering artist Dan Forster. It is intended to capture the aura of the first PizzaExpress and make use of the cusps and shapes of the original brand asset while improving legibility at speed.
"The aim was to improve legibility on pack, and secondly, to echo cues from the iconic main brand marque, to create a more distinctive and ownable type style," explained typographer Dan Forster. "A range of approaches were explored to find just the right balance of characteristics. The type was developed in a similar process to typeface design, with further adjustments made to individual characters to add more personality while also accommodating specific pack formats."
The new brand identity is being implemented across PizzaExpress pizzas, pizza sauces, pizza dough, dough balls, and salad dressings. BRANDON's 'Timeless Iconicity with Pizzazz' brand idea forms the basis for the upgrade, which is expected to expand the brand's associations from everyday or weekly use to special occasions.
PizzaExpress retail director Rich Mills commented: "For over 20 years, we've been selling pizza with pizzazz in supermarkets across the UK and Ireland and this rebrand with BRANDON was an opportunity to transform not only our pizzas to offer customers clearer choice and better quality, but a new retail identity too. From our beloved pizzas to our iconic filagree roundel and colours, with this rebrand we're standing out on the shelves in supermarkets across the country. We're delighted with the eye-catching new look of our chilled range."
Joe Bembridge, design director at BRANDON, added: "By unlocking PizzaExpress' unique and iconic place in our lives, we've successfully revitalised a much-loved nations favourite. We looked back into the PizzaExpress archive to help us move the brand forward, unleashing its creative flair from its jazz and art history.
"We simplified and amplified the iconic filigree mark, the brand's strongest distinctive brand asset, then simply unified it across the product portfolio as part of a wider Masterbrand strategy."
Tropicana's Kids Smoothies range has undergone a similar rebranding, with STORMBRANDS designing a new packaging system and updating its branding to appeal to both children and parents.
Flora has also unified its brand identity to reflect its commitment to protecting people and the planet with its plant-based alternative to dairy butter.
If you liked this article, you might also enjoy:
The L'Oréal approach to packaging sustainability
What steps is Apple taking to make its packaging more sustainable?
How did Brazil achieve its 100% aluminium can recycling rate – and can it be replicated in the EU?
Experts have their say on the EU's Packaging and Packaging Waste Directive revisions