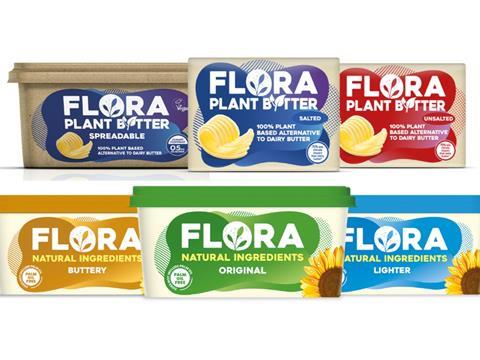 Flora has unified its brand identity to reflect its commitment to protecting people and the planet with its plant-based alternative to dairy butter.
Every Flora spread will be packaged in the same style as the company's Flora Plant B+tter product, designed to represent the natural, 100% plant-based, palm oil-free ingredients – as well as its new dairy-free recipes for a vegan diet.
The packaging will attribute different colours to certain ingredients and flavours with the intention of helping consumers identify their favourite flavours or meet dietary requirements with ease.
Flora has also utilized a Life Cycle Assessment tool developed by Quantis and claims that its spread has 77% less climate impact than dairy butter.
Ian Hepburn, marketing director, UK, Upfield, commented: "Flora has been a kitchen staple across the UK since 1964 and over six decades, we've continued to innovate to meet shoppers' needs.
"With Flora's 'Skip The Cow' campaign, Flora has encouraged people to stop and think about their dairy habits. We have driven record levels of awareness and consideration for Flora and more households are buying and loving the brand as a result. The natural next step was to unite all our great Flora products under a single identity.
"We have also been continuously working to deliver a fully 100% plant-based range, that is even tastier and are pleased that Flora Buttery is now deliciously dairy-free. Our purpose is at the heart of everything we do, and we will continue to make new products to continue the Flora movement.
"Plant-based is no longer just an alternative, and when the products are this delicious and affordable, sustainable choices become easy."
STORMBRANDS has facilitated another shift in branding for Tropicana's Kids Smoothies range, developing a new packaging system in the hopes of appealing to both children and parents.
Cobra Beer has redesigned its own packaging to connect the drink with Pan-Asian cuisine and cater to increasing consumer interest in spicy food, while Pepsi is celebrating its 125th anniversary by updating its logo across its packaging and other physical and digital touchpoints for the first time in 14 years.
If you liked this article, you might also enjoy:
The L'Oréal approach to packaging sustainability
What steps is Apple taking to make its packaging more sustainable?
How did Brazil achieve its 100% aluminium can recycling rate – and can it be replicated in the EU?
Experts have their say on the EU's Packaging and Packaging Waste Directive revisions