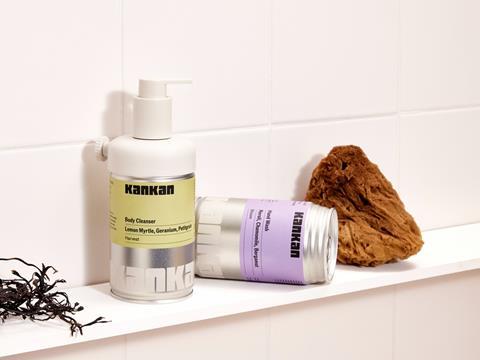 Morrama has designed a dispenser solution for KANKAN's canned personal care products with the intention of minimising materials, waste, and packaging weight while improving user experience.
A cap and pump attachment is set to attach to the top of the refill itself, aiming for a quick, easy, and hassle-free process. Rather than inserting a refill into a case or pouring it into a bottle – both of which can apparently require heavy material usage and/or become frustrating to use – the user can 'click' the can in place and secure it with a thumb screw.
The dispenser is designed to hold the can in a position to display the KANKAN logo and is also constructed from separable parts, intended to enable simple maintenance through the replacement of specific parts and easy separation at end of life.
"On average, British adults throw away 312 plastic bottles per year, but only half of us recycle bathroom packaging," explained Jo Barnard, founder and creative director at Morrama. "There are limited plastic-free options available on the cosmetic market, especially for liquids. Ultimately the most sustainable way of getting soap out of a can is to simply pour it straight into your hand. We've attempted to do the next best thing whilst also improving the user experience and creating a memorable aesthetic."
Andy Trewin Hutt, associate director at Morrama, continued: "We wanted to celebrate the rawness of the materials being used, so everything is neutral and natural in colour. The cap and screw are made from 100% PCR plastic and the dispensing pump is 50% PCR plastic; the remaining 50% virgin plastic required for cosmetic compatibility and function."
"Our ambition is to make circular solutions simple and easy for the consumer," added Eliza Flanagan, co-founder of KANKAN. "We hope that by making refills more convenient, it helps broaden the appeal and reduces our consumption for single-use plastics in the home. Morrama truly understands and champions our values and purpose, and the new design offers a premium product experience that makes everyone's homes a bit more sustainable with every refill."
Dove unveiled its first refillable and reusable packaging for deodorant products last month, with the solution intended to give consumers greater access to refill solutions and reduce packaging waste.
Several other refillable personal care products were released early last year, from refillable stainless steel tubes for Izzy's mascara and lip butter products to Happier Beauty's 'world-first' refillable toothpaste dispenser.