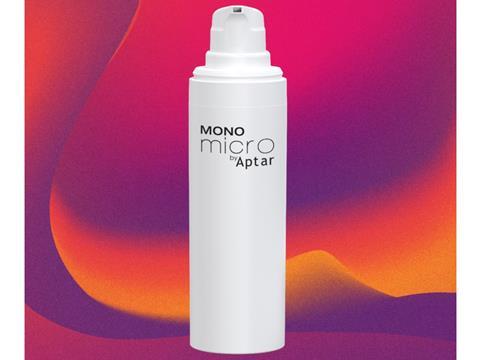 Aptar Beauty has added Mono Micro, its first mono-material airless dispenser with a 100% recyclability score from cyclos-HTP, to its portfolio.
Based on the company's Micro 30ml airless packaging solution, Mono Micro is made entirely of polyethylene – from its outer cap to its container, actuator, interior piston mechanism, and label – and aims for circularity with a 100% recyclability score from cyclos-HTP.
Its top-fill piston system serves to prevent external contamination and minimize waste of the bulk with a high evacuation rate. It is designed to facilitate exact dosage per stroke and 360° dispensing for 'intuitive and easy' use by consumers.
Aptar Beauty anticipates that Mono Micro will be applied to dermo-cosmetic and masstige brand products. Through the company's Mix & Match programme, customers can customize the pack's finish, colour matching, and decoration for individual branding purposes.
Polyethylene labels from Autajon Labels are also available to enable on-pack branding that is fully compatible with PE recycling streams.
Mono Micro is designed and manufactured at the company's airless technology specialist facility in Villingen, Germany. The whole Micro range will be available at the beginning of 2024; this will extend to the Mezzo 50ml line and implement post-consumer recycled resin from mechanical or chemical recycling in the future.
"At Aptar Beauty, we are always improving our existing offer and updating it with more Design for Recycling solutions," said Partick Bousquel, marketing director Beauty EMEA at Aptar Beauty. "Being mono-material, Mono Micro as a whole is compatible with existing recycling streams.
"It makes it easy for brands by choosing Mono Micro to anticipate future regulations with recyclable plastic packaging and meet their sustainable commitments."
Back in 2021, Quadpack revealed a refillable version of its Regula Airless dispenser range and unveiled CANVAS Airless, which was set to cut plastic use by 15% and enable custom shapes with minimum lead time and reduced investment.
NUXE's sun spray and tanning oil products have also been packaged in Aptar Beauty's PZ Twist spray pump in the hopes of bringing environmental benefits to an aesthetically pleasing design.
If you liked this article, you might also enjoy:
The L'Oréal approach to packaging sustainability
What steps is Apple taking to make its packaging more sustainable?
How did Brazil achieve its 100% aluminium can recycling rate – and can it be replicated in the EU?
Experts have their say on the EU's Packaging and Packaging Waste Directive revisions
Also, if you're interested in packaging sustainability, you will want to attend our Sustainable Packaging Summit in Amsterdam on 14-15 November. The Summit brings together leaders and pioneers from across the industry to align strategically, learn, network, and create a critical mass to accelerate change. You can learn more by clicking here, and you can buy a ticket to attend here.