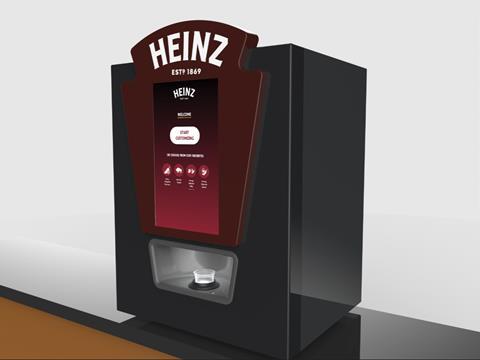 The Kraft Heinz Company has unveiled HEINZ REMIX, an IoT-enabled and customizable digital sauce dispenser enabling consumers to create their own sauce flavours from over 200 potential combinations.
Reportedly designed in the space of six months, the free-standing machine is operated via touchscreen. Consumers are encouraged to choose between the 'base' flavours of Heinz Ketchup, Ranch, 57 Sauce, and BBQ Sauce, then integrate their desired 'enhancers' – Jalapeño, Smoky Chipotle, Buffalo, and/or Mango – between intensity levels of low, medium, and high.
HEINZ REMIX made its debut at the 2023 National Restaurant Association Show in Chicago and is set to pilot late this year or in early 2024. The solution falls under Kraft Heinz's "Away From Home" division – a key growth platform outlined in the company's long-term strategy.
"As a company, we're transforming through innovation by making bigger, more intentional bets to fuel our growth and create new experiences for consumers," said Alan Kleinerman, vice president of Disruption at Kraft Heinz. "HEINZ REMIX is a great example of this consumer-first approach to innovation. We're changing the game for foodservice operators and sauce lovers - dipping will never be the same.
"With HEINZ REMIX, it's more than a sauce dispenser; it's an insights engine and business model enabler that will help Kraft Heinz understand and respond to consumer trends and flavor preferences in real-time. Who knows – maybe our next new sauce combination will come from a superfan using HEINZ REMIX!"
"The launch of HEINZ REMIX is a first for the sauce category and foodservice industry," said Peter Hall, president, U.S. Away from Home, Kraft Heinz. "It's a great example of how we're leveraging culinary insights and category knowledge to drive greater value for our customers and consumers.
"Our ambition is to be the leader for taste, flavour and experience anywhere you're eating, and we're delivering on that goal with category-leading innovations like HEINZ REMIX."
The Kraft Heinz Company has set its sights on 'creative disruption' across its operations – 'breaking down siloes to cultivate collaboration, reimagine product development, and utilize digital capabilities to accelerate the pace of innovation'.
Its other steps towards more sustainable practice include setting a goal to consume 20% less virgin plastic in its portfolio; this would entail minimizing components, increasing recycled content, and making use of alternative materials to reduce around 100 million pounds of plastic.
Balaton, the company's mono-material dispensing closure designed to replace silicone valves, is a finalist in the commercialized Recyclable Packaging category at the Sustainability Awards 2023.
Meanwhile, a new label and Instagram filter from Wunderman Thompson Turkey has been designed to identify the exact Pantone shade of Heinz ketchup and prevent foodservice outlets from serving imitations in Heinz packaging.
If you liked this article, you might also enjoy:
The L'Oréal approach to packaging sustainability
What steps is Apple taking to make its packaging more sustainable?
How did Brazil achieve its 100% aluminium can recycling rate – and can it be replicated in the EU?
Experts have their say on the EU's Packaging and Packaging Waste Directive revisions
Also, if you're interested in packaging sustainability, you will want to attend our Sustainable Packaging Summit in Amsterdam on 14-15 November. The Summit brings together leaders and pioneers from across the industry to align strategically, learn, network, and create a critical mass to accelerate change. You can learn more by clicking here, and you can buy a ticket to attend here.