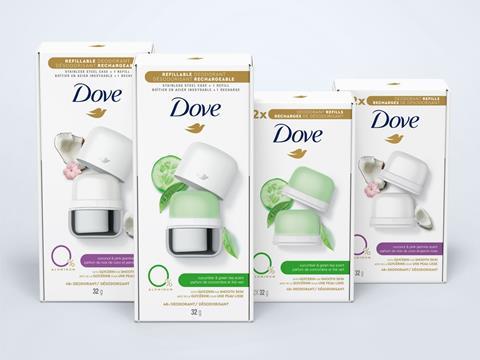 Dove has launched its first refillable and reusable deodorant packaging with the aim of providing an accessible refill solution for consumers and reducing plastic waste.
According to Dove, the 'super-durable' stainless steel case is capable of enduring forces of nearly 900lb in weight, while the pack's exterior incorporates 96% recycled plastic and is 100% recyclable. It is designed to be compact and is described as having a 'sleek, minimalist aesthetic'.
Consumers are expected to buy one pack and continue to refill it until its end of life, cutting down on the disposal of single-use packaging – a practice that will otherwise result in 12 billion tonnes of plastic in landfill or the environment by 2050, the company says.
"We're excited to make sustainable personal care products accessible with the launch of Dove Refillable Deodorant," says Firdaous El Honsali, global vice president of Communications & Sustainability at Unilever. "Dove Refillable Deodorant is only the beginning. We are looking at every facet of our packaging and are working towards our commitment to make all plastic packaging reusable, recyclable or compostable by 2025."
The Dove Refillable range is certified by PETA and comes in four fragrances marketed towards male and female consumers, respectively. Each scent contains an aluminium- and alcohol-free formula enriched with Dove ¼ moisturisers, as well as odour-blocking ingredients for a reported 48 hours of protection.
The packs are currently available at all Canadian brick-and-mortar retailers, as well as through e-commerce sites such as Amazon, Walmart, Shoppers Drug Mart, and London Drugs.
Paco Rabanne collaborated with VPI in 2021 to unveil a refillable spray cap that incorporated NFC technology into its 100ml and 150ml bottles.
More refillable solutions came to light last year, from cosmetic brand Izzy's stainless steel mascara tube to dental care brand Happier Beauty's toothpaste dispenser with biodegradable refill capsules.