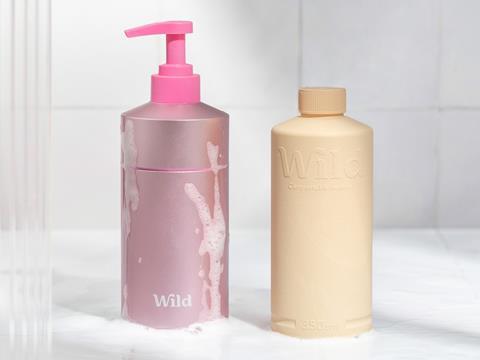 Morrama has developed a new refillable bottle – and refills claimed to be 100% plastic-free and compostable – for liquid cosmetics from Wild in a bid to drive down single-use plastic waste.
Half of British adults are said to recycle their bathroom packaging every year, says Circular, with limited plastic-free options for liquid products currently said to be available on the cosmetic market. Wild's new packaging aims to fill this gap and offer an environmentally conscious alternative to single-use packaging.
Designed to coincide with the deodorant's sleek aesthetic, the new case is made of lightweight aluminium and encloses the bamboo refill to protect it from water and humidity. Although the pump is made of plastic, 50% consists of post-consumer recyclate.
The refills are apparently made from 70% bamboo starch with natural waterproof properties, with the remaining 30% consisting of plant starch from agricultural waste to strengthen the structural integrity. Once emptied, the packs can apparently be placed in a general waste bin or a compost heap, where they are said to biodegrade at a faster rate than a banana peel.
Wild's natural soap and shower gel products will be the first products to be repackaged, and it is hoped that the change will help consumers cut down on the excessive disposal of bathroom product packaging.
"Transporting liquids without plastic or high energy aluminium has, until now, been a major challenge for the cosmetics industry," explains Jo Barnard, founder of Morrama. "As with the Wild deodorant, we wanted to ensure that the refill would leave no trace, breaking down completely, even in landfill conditions, in less than 2 years.
"We designed the Wild shower gel case with consideration for every detail, from ease of user experience, to its recyclability and sustainable credentials. It has been designed as a truly premium product experience, but at an affordable price."
"We have been working with Morrama for the past few years, and we couldn't have asked for a better design partner," adds Freddy Ward, co-founder of Wild. "The team truly understands our values and purpose and pushes our boundaries of what we thought was possible in the first place.
"Building on our initial success from Wild deodorant, we are incredibly proud to be launching Wild shower gel on the market and making people's bathrooms a little bit more sustainable with every refill."
Morrama previously worked with Shanghai-based manufacturer PPK to design Maya, its refillable packaging range for makeup and personal care packaging, as well as designing a dispenser solution for KANKAN's canned personal care products to reduce materials, waste, and packaging weight.
Additionally, Molton Brown's refillable, 'made-to-last' Bath & Shower Gel bottle collection seeks to help consumers shrink their plastic footprints by 63%.
If you liked this article, you might also enjoy:
McDonald's Director of Sustainability in Europe on the company's approach to packaging sustainability
McKinsey on whether or not on-pack sustainability claims affect consumer spending
Perspectives from industry-leading experts on the EU's Packaging and Packaging Waste Directive revisions
A deep dive into the most important packaging sustainability trends and solutions