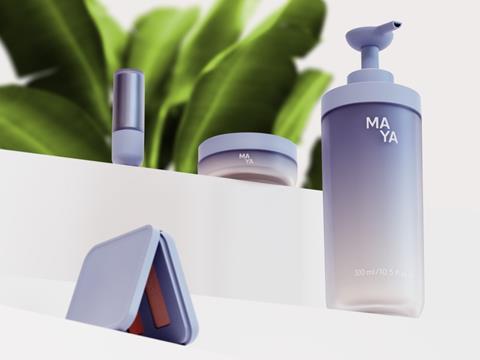 Morrama has revealed its refillable packaging range, Maya, created in collaboration with Shanghai-based manufacturer PPK to serve as a response to excessive waste in makeup and personal care packaging.
According to British Beauty Council, 95% of cosmetic packaging is thrown away, threatening the sustainability of the beauty sector. Maya aims to amend for this with its refillable packaging made of cellulose pulp that is reportedly manufactured using renewable energy and recyclable in waste paper streams at end of life.
The range is expected to enable brands to customise their branding with its minimal design, and it is apparently easily implemented into existing product lines as cosmetic companies search for more sustainable packaging solutions.
To combat the waste issue of unfinished lipsticks, Maya's patented lipstick case is separate from the lipstick shades. Instead, the refills are stored in separate board-based packaging like crayons, with consumers able to insert and remove shades at will.
Although refillable and sometimes recyclable palettes already exist, Morrama claims that their small size can lead them to fall through the screeners during the recycling process and end up in landfill. As such, the Maya palette comes in ten different sizes with a refill pan that is apparently compostable – ensuring that it will biodegrade without leaving chemicals or microplastics if it is accidentally sent to landfill.
Meanwhile, the Maya range's liquid-filled pots and pumps are said to feature a 5% PP/PET lining; these are designed to be thin so as not to prevent the bottle from being recyclable in the UK's paper waste stream, which is expected to result in a 98% reduction in plastic compared to other refill cosmetic brands.
Morrama and PPK claim that they are currently working towards a 100% plastic-free refill expected to enter the market next year, and a fully-recycled aluminium range is expected to be released in 2024.
"Refillables are not necessarily a new thing in cosmetics, but the refills are made of mixed materials and can't be recycled," explains Jo Barnard, founder and creative director of Morrama. "Our design approach with Maya has been to strip the refills back to the absolute essential, cutting weight and maximising the use of renewable materials. 
"The primary packaging design has been driven by user experience. It's very easy to add material to packaging to make it refillable, so we've been conscious of designing to be resource efficient. We are excited to give companies an opportunity to switch their products to refillables without compromising on their brand experience."
Another recent project saw Moramma work with KANKAN to minimise materials, waste, and packaging weight by producing a dispenser solution for its canned personal care products.
Quadpack has also added a refillable wooden compact case to its Woodacity range, while Dove has launched its first refillable and reusable deodorant packaging in a bid to reduce plastic waste by providing consumers with an accessible refill solution.