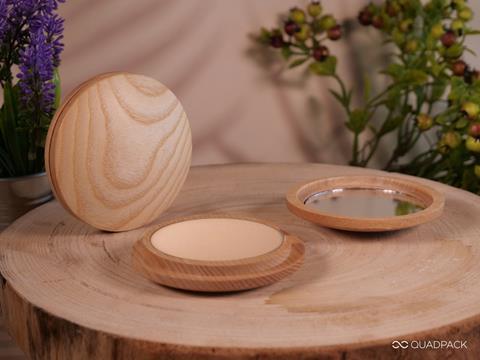 Quadpack is expanding its Woodacity range with the refillable Idol Woodacity Solo Twist Compact, featuring wooden casing and a twist system thought to increase accessibility for both left- and right-handed consumers.
Reportedly made of wood sourced from sustainably-managed European forests, the compact consists of a separate top and base – meaning that the cap can also be used as a pocket mirror. Consumers can twist the cap on a 90° turn to the left or the right to open the pack, with its domed top aiming to provide a pleasant tactile experience.
On the other hand, the base contains a small, dismantlable magnet, designed to hold a flat, refillable, metallic 59mm godet in place and facilitate easy separation for recycling. The recess at the base is thought to allow consumers to easily extract the godet and replace it with a filled version.
Brands can also customise the Solo Twist Compact to fit the needs of their products, according to the company.
Quadpack previously collaborated with Aptar to produce the Iconic Woodacity lipstick packaging, another refillable cosmetic solution.
Other refill solutions for personal care and cosmetic products include Fasten's REfill REuse REpear, a jar system made of 100% recycled polypropylene; and Quadpack's own New Regula Refill Jar, featuring a PET outer wall and an inner jar and double-walled cap made of PP.
A long-term agreement was recently signed by Holmen Iggesund and Yangi in pursuit of biobased and renewable materials for use in refills, inserts, and testers for the beauty and cosmetics industry.