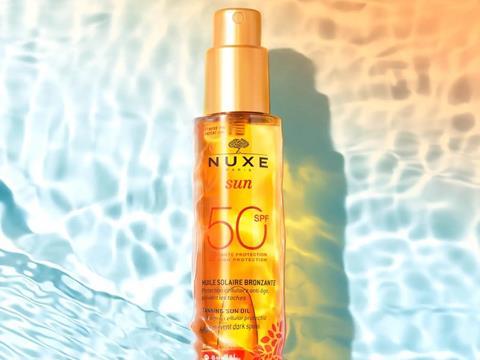 Aptar Beauty's PZ Twist spray pump is being used to package NUXE's sun spray and tanning oil products in an effort to combine an attractive design with a more environmentally friendly solution.
The spray pump is POM-free and made primarily from polypropylene. Users can twist the actuator to lock and unlock the pump, with an audible click indicating its proper closure in a bid to prevent leakage.
A large finger pad has also been designed into the pump for convenience and hygiene, with anti-slippery ribs and a protective shield amongst the additional options available.
PZ Twist's twist-to-lock technology seeks to negate the need for an overcap and cut down on material usage; at the same time, it claims to offer high performance and, according to Amazon's ISTA-6 Overbox testing, compatibility with e-commerce. Removing caps from the packaging is also hoped to reduce the amount of litter from sun care products ending up in the environment.
The pump features Aptar Beauty's PZ engine, which is said to bring 'exceptional' spray performance to a range of products, including 'complex and demanding formulations' such as NUXE's sun care range.
PZ Twist is anticipated to blend into the new PET bottle for NUXE Sun's Tanning Sun Oil and Delicious Sun Spray products, with a pearlescent gold finish coinciding with the company's branding.
"NUXE wanted an attractive, more sustainable pump that was easy to use – possibly with a new gesture – while keeping the same level of spray performance," explained Madalina Dragan, Aptar Beauty's marketing director Personal Care & Home Care EMEA. "PZ Twist ticked all the boxes and the interest was immediate.
"We designed it precisely for this kind of demand: less parts and suitable for omnichannel sales. Our innovation team successfully integrated the twist-to-lock technology into the PZ range.
"We are very proud of our collaboration with NUXE and excited to see PZ Twist converting the Sun Care packaging market."
Aptar's mono-PE, fully recyclable, and ISTA-6 compliant Future pump reached the finals of last year's Sustainability Awards.
More recently, Beiersdorf is implementing 50% recycled material into the caps and pumps of its NIVEA Sun and Lip Care packs as a contribution to its efforts to reduce 30% of its CO2 emissions by 2025; and the pumps in Morrama's refillable packaging range, Maya, apparently feature a 5% PP/PET lining that are designed to be thin so as to keep them compatible with the UK's paper waste stream.
If you liked this article, you might also enjoy:
McDonald's Director of Sustainability in Europe on the company's approach to packaging sustainability
McKinsey on whether or not on-pack sustainability claims affect consumer spending
Perspectives from industry-leading experts on the EU's Packaging and Packaging Waste Directive revisions
A deep dive into the most important packaging sustainability trends and solutions