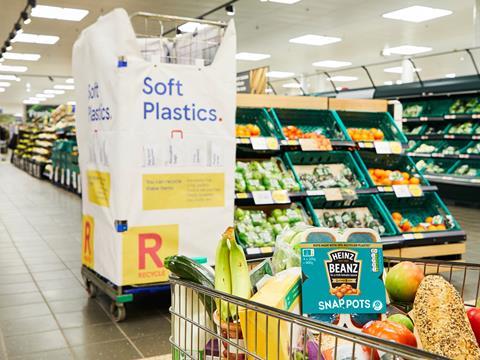 Heinz has joined forces with Plastic Energy, SABIC and Berry Global to produce Heinz Beanz Snap Pots made from 39% recycled soft plastic, collected from customers at Tesco's in-store collection points.
The new pots are produced through a collaborative five-step process. First, post-consumer soft plastic packaging which would otherwise be incinerated or taken to landfill is collected at Tesco stores throughout the UK.
The collected packaging is then delivered to Plastic Energy, a specialist in advanced recycling technology, where it is converted using their patented TAC process into an optimal oil feedstock
Next, SABIC takes the recycled oil and uses it as alternative feedstock in the production process to manufacture virgin, food-contact approved polymer pellets
On-site at its ISCC-certified manufacturing sites, sustainable packaging specialist Berry Global then applies its thermoforming capabilities to mould the food-contact approved polymer pellets made with 39% recycled plastics based on a mass-balance approach into new, post-consumer recyclable Snap Pots.
Finally, the completed Snap Pots are sent to Heinz to be filled with Beanz and delivered back to Tesco stores. Once used, the pots can be recycled as part of kerbside collections
The recycled plastic used in the snappable pots is certified by the ISCC, a global sustainability certification system that supports the transition to a circular economy. The 39% recycled plastic they contain was validated using the "mass balance approach" endorsed by ISCC, which makes it possible to track the amount and sustainability characteristics of materials used in the manufacturing process.
To date, soft plastic packaging has been notoriously difficult to recycle, and until 2020 just six percent of UK soft plastics were being recycled. Tesco started collecting soft plastic in all its large stores in 2021 in a bid to help plug this recycling gap in the UK.
From August, all these materials will be sorted in the UK. The move to make soft plastics into food-grade, microwavable snappable pots that can be returned into the kerbside recycling loop is reportedly a world first.
The UK's Resources and Waste Minister, Jo Churchill, commented: "It is great to see Heinz and Tesco working together to trial packaging to boost recycling levels. Businesses across the UK are stepping up to tackle plastic pollution and we want to incentivise them to do so. Through our landmark Environment Act, we are also making it easier for consumers to recycle more."
In an interview with Packaging Europe earlier this year, Tesco's head of packaging, James Bull, said: "We learned in the trial that [soft plastic collection] was a popular concept. We were the first retailer to test the concept in 2019 and quickly went from emptying the collection points weekly to several times a day. The popularity meant we scaled and now have collection points in around 900 stores. We've recently hit the milestone of 500 tonnes of soft plastic collected in our stores.
"We were able to recycle over 80% of the soft plastic returned by customers in a recent trial and are working with recyclers to explore what can be done with the remaining 20%. Some of the collected soft plastic has already been recycled into food-grade packaging for our own brand cheeses and sold in store."
Heinz's parent company Kraft Heinz recently agreed to set a goal to reduce its total virgin plastic use, following the filing of a shareholder proposal and engagement with As You Sow, a shareholder advocacy nonprofit. Heinz itself has already pledged to make 100% of its packaging recyclable, reusable or compostable by 2025.