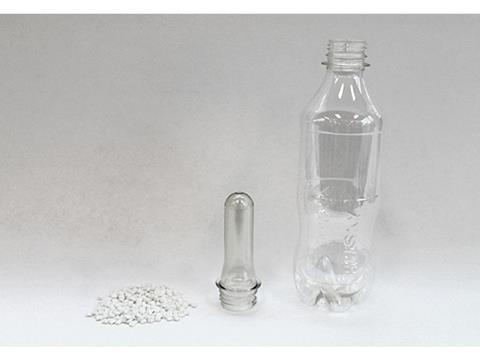 Origin Materials and Husky Technologies report the successful use of injection moulding equipment to process PET containing FCDA – a bio-based chemical utilised in PEF production – into preforms and bottles for advanced packaging and more.
Also utilised in polyesters, polyamides, polyurethanes, coating resins, and plasticisers, FCDA, or furandicarboxylic acid, is a chemical building block that contributes to the production of polyethylene furanoate (PEF).
According to Origin Materials, PEF offers higher strength, a lower carbon footprint, and increased thermal and barrier properties compared to standard petroleum-based materials. Its own PEF is believed to offer 'attractive unit economics' as well as being 100% bio-based and fully recyclable.
Now the company has poylmerised FDCA into PET to create PET/F, which is described as a "tunable" hybrid polymer that apparently offers full recyclability and performance enhancements. Husky Technologies has applied its injection moulding technologies and commercial-scale manufacturing equipment to create preforms and, subsequently, bottles.
Origin Materials anticipates the development of a portfolio of 100% bio-based, low-carbon, fully recyclable PET/F polymers that improve the performance of PET derived from petroleum. Adjusting manufacturing conditions and the quantity of FDCA between applications is set to enable manufacturers to extend the shelf life of their products at their own discretion.
It is hoped that PET/F could be integrated into existing PET production systems, with Origin expecting to produce FDCA, PEF, and PET/F at a commercial scale using its patented technology platform, which both captures and converts carbon found in sustainable wood residues into useful materials.
"This is a key moment in the commercialisation of cost-effective, low-carbon FDCA and PEF and the development of next-generation sustainable polymers generally," said John Bissell, co-founder and co-CEO of Origin Materials. "We believe these materials have the power to transform plastics and the material economy.
"We are pleased to work with Husky, a trusted leader in injection moulding technologies and polymer processing development, to achieve this performance milestone, showing the ready processibility of our innovative hybrid polymers using Husky's commercial-scale injection moulding equipment. This is a major milestone in our effort to help transition the world to sustainable materials."
"Driving sustainability through innovation is at the core of how Husky has been leading the way in enabling the circular economy of plastics," continued John Galt, CEO of Husky Technologies. "Preserving and protecting what matters, in even more sustainable ways is foundational to everything we do at Husky.
"Our collaboration with Origin Materials is an exciting example of combining material innovation with state-of-the-art polymer processing technologies."
Origin Materials has been working with Avantium to advance the industrial production of PEF from sustainable wood residues. This development comes after Avantium signed an agreement with LVMH Group to secure a fixed volume of PEF for its cosmetics packaging.
Husky Technologies has also spoken to Packaging Europe in various webinars, discussing the evolution of preform-based PET packaging, the company's approach to PET packaging production in the European market, and the polymer's benefits amidst rising energy costs and supply chain issues.
If you liked this article, you might also enjoy:
McDonald's Director of Sustainability in Europe on the company's approach to packaging sustainability
McKinsey on whether or not on-pack sustainability claims affect consumer spending
Perspectives from industry-leading experts on the EU's Packaging and Packaging Waste Directive revisions
A deep dive into the most important packaging sustainability trends and solutions