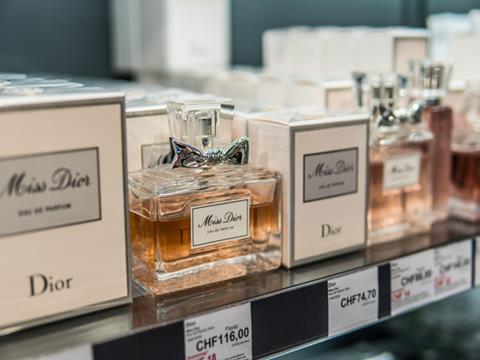 Avantium has signed an agreement with luxury goods conglomerate LVMH Group (Moët Hennessy Louis Vuitton) to secure a fixed volume of the plant-based, fully recyclable polymer polyethylene furanoate (PEF) for their cosmetics packaging. It is hoped to be a step towards the commercial launch of a new and sustainable packaging material.
Avantium's new FDCA Flagship Plant is currently under construction; the company claims it to be the world's first commercial plant to produce furandicarboxylic acid (FDCA) from plant-based sugars. FDCA is an essential component in creating PEF, which they say is a stronger and more protective material than the average petroleum-based plastic – leading to superior product protection and reducing the amount of packaging required in any one product.
Reportedly, trials of PEF packaging for LVMH beauty brands such as Parfums Christian Dior, Givenchy Parfums and Guerlain have been successful. Packaging the products in this material is hoped to encourage the wider introduction of PEF in the cosmetics market and contribute towards a circular economy.
Claude Martinez, executive president and managing director of the Beauty Division of LVMH Group, comments, "As part of our social and environmental strategy "LIFE 360" (LVMH Initiative for the Environment), LVMH Beauty is always looking for sustainable materials with superior performance for our luxury products. The environmental and performance features of PEF are unique and meet our sustainable packaging goals without any compromise on quality.
"We are pleased to collaborate with Avantium and help to enable the commercial introduction of PEF to the cosmetics market."
Tom van Aken, CEO of Avantium, adds, "We are delighted that LVMH has adopted PEF as a sustainable solution for its cosmetics packaging. We look forward to supporting LVMH's sustainability strategy "LIFE 360" and the company's target of zero plastic from virgin fossil feedstock, while delivering a high-quality, innovative packaging material that the luxury consumers of LVMH may expect."
The news comes after LVMH's participation in the PEFerence consortium coordinated by Avantium earlier this year. The flagship project facilitated cooperation between various leading brands and value chain partners to encourage the commercialisation of PEF.
In another integration of PEF into product packaging, Avantium joined forces with Paboco and the Paper Bottle Community to produce the Generation 2.0 Fibre Bottle for Carlsberg Group.
LVMH Perfumes & Cosmetics has previously collaborated with speciality material provider Eastman to develop packaging that utilises molecular recycling technologies.