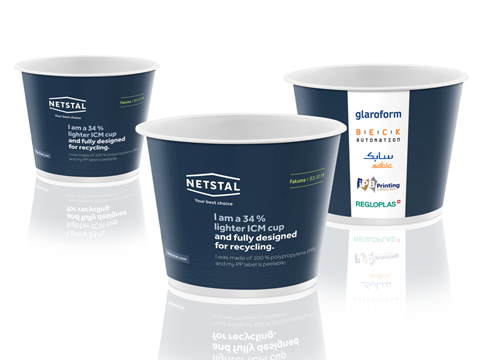 Netstal is displaying a lightweight, thin-wall, injection compression moulded cup for dairy products, reportedly made of 100% polypropylene, at Fakuma.
Reportedly, the filling volume of the cup is 200g, its part weight 5.4g, and its wall thickness 0.3mm. Injection compression moulding, or ICM, claims to reduce the cup's weight by 34% and, when combined with product optimization, lowers packaging volume by 27%.
Due to its mono-material design, it is said to be easy to recycle. The label apparently comes apart from the rest of the pack during the recycling process – unlike a conventional in-mould label – and the printing ink particles are separated from the pure polypropylene to keep the recycling stream from becoming contaminated.
The thin wall is manufactured in four cavities at a cycle time of 2.7 seconds in an Elion 1750 injection moulding machine with a hybrid injection unit. Adaptive system pressure reduction has also been applied in an effort to increase the efficiency of its hybrid machines.
When operating in automatic mode, the control system identifies the optimum point at any time and adjusts the pressure in the hydraulic system. Netstal states that, depending on the application, this adjustment can minimize the energy consumption required to reach the appropriate system pressure.
Glaroform, Beck Automation, SABIC, IPB Printing, motan, Regloplas, and Uniform Color also contributed to the creation of the pack, with dairy product bottler Emmi AG also serving as a development partner. The cup's previous appearance has been maintained while its specifications have been tailored to Emmi's requirements.
Additionally, Netstal is showcasing Axos 9, the newest generation of its control technology. Set to be applied to the Elion and Elios series machines, the technology comes with an operating concept expected to maximise performance.
Smart Operation, only available as a paid option in past models, has been implemented into the scope of delivery from Axos 9. It claims to facilitate the fast, safe, and effective operation of Elion and Elios machinery.
Netstal will also provide mould partner Ceylan with an all-electric Elion 2200, which will produce 150g margarine trays with IML decoration in four cavities. Eurasia Robotic created the IML system with side removal, camera control, and packaging unit.
It offers a show weight of 42g and a cycle time of 3.8 seconds, and the turnkey production line will run at Ceylan's booth at Fakuma.
Previously, ENGEL, ALPLA Group, Brink and IPB Printing collectively produced thin-walled containers made of PET and rPET in a single injection moulding process step; and Sumitomo (SHI) Demag expanded its IntElect S all-electric high-performance injection moulding machine range to explore low part weights, narrow tolerance components, and other product applications.
A collaboration between Plastiques Venthenat, Amcor, Olga, Cedap, and Arcil-Synerlink has also resulted in a form-fill-seal yoghurt pot that claims to be fully recycle-ready. Its 98.5% polystyrene content is expected to smoothen the sorting and recycling processes.
If you liked this article, you might also enjoy:
The L'Oréal approach to packaging sustainability
What steps is Apple taking to make its packaging more sustainable?
How did Brazil achieve its 100% aluminium can recycling rate – and can it be replicated in the EU?
Experts have their say on the EU's Packaging and Packaging Waste Directive revisions