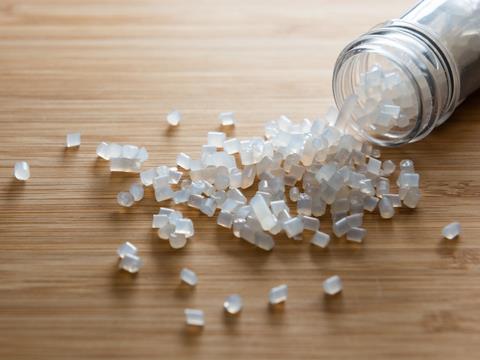 Avantium and Origin Materials are combining their technology platforms to produce FDCA – a key building block in the production of PEF – from sustainable wood residues on an industrial scale, aiming to increase PEF supplies for the production of bottles, films, and other packaging applications.
Origin Materials' patented technology platform takes carbon from sustainable wood residues and turns it into building block chemicals such as CMF. Within the collaboration, Avantium's proprietary YXY Technology will convert this CMF and similar plant-based sugars into FDCA, which can then be used to produce PEF.
As a biopolymer, PEF is a plant-based plastic that is thought to offer the same functions as conventional plastics alongside 100% recyclability and a reduced carbon footprint. It is currently utilised in packaging, fibres, textiles, and more.
Avantium's commercial-scale FDCA Flagship Plant – apparently the first plant of its kind and expected to produce 100 kilotonnes per annum – is currently under construction in Delfzijl, the Netherlands. The company has also signed offtake agreements with such companies as Carlsberg, LVMH, and AmBev for the supply of FDCA and PEF.
Meanwhile, Origin Materials has completed the construction of its first commercial manufacturing plant, Origin 1, in Canada. It is hoped that the plant – which already claims to have signed capacity reservations and offtake agreements with brand owners – will serve as the first step in the production of high-performance products for the packaging, textiles, apparel, and automotive sectors, amongst others.
A non-exclusive industrial technology license agreement has also been signed, giving Origin Materials access to the relevant parts of Avantium's process technology at its scale facility in order to convert its CMF derivatives into FDCA. Furthermore, Avantium will execute a development programme to establish a bridge between the companies' technologies, with Origin Materials expecting to incorporate Avantium's process technology into the supply chain of its future plants.
The partners have also entered into a conditional offtake agreement wherein Avantium will sell FDCA and PEF to Origin Materials – from its FDCA pilot plant in Geleen, the Netherlands, in 2023 and from the Delfzijl plant when it is expected to commence its commercial operations in 2024. Origin is set to purchase a gradually increasing minimum annual volume of FDCA on a take-or-pay basis, which could enable Origin to accelerate the market adoption of FDCA and PEF.
"We are excited to enter into this strategic partnership with Origin Materials, a like-minded partner committed to revolutionizing the chemical and plastics industry," said Tom van Aken, chief executive officer at Avantium. "The technologies of both companies are highly complementary and will also enable the use of non-edible, renewable feedstocks for the production of FDCA and PEF, meeting the expectations of brand owners and consumers worldwide.
"This supplements the feedstock options for our technology. We look forward to working together on our shared ambition to transition the world to large-scale sustainable materials made from non-fossil resources."
"We are excited to partner with Avantium, a leading innovator and developer of sustainable chemistry, on a project with far-reaching impact," said John Bissell, Origin's co-founder and co-chief executive officer. "Together we aim to bring the value of FDCA and one of its main applications, PEF, to the industry at large and to drive decarbonization throughout the supply chain.
"By combining Origin's revolutionary platform, which can produce key FDCA precursors like CMF from sustainable wood residues, with Avantium's YXY process technology, we aim to transform the polymers and materials industry. This partnership accelerates our efforts to bring economical non-food based FDCA and PEF to market."
Avantium is continuing its discussions with other industrial partners regarding additional offtake and industrial agreements in an effort to further expand and diversify the market for FDCA and PEF applications.
The company's shareholders granted approval to build the flagship plant this time last year. Since then, the Nova Institute has also conducted an LCA and suggested that Avantium's PEF could significantly reduce greenhouse gas emissions if used to produce 250ml and 500ml bottles.
In signing an agreement with Avantium, LVMH Group hopes to utilise PEF in its beauty brand packaging from Parfums Christian Dior to Guerlain, with previous trials said to be successful.
Carlsberg also implemented a PEF lining into its Generation 2.0 Fibre Bottle, which was piloted last summer.