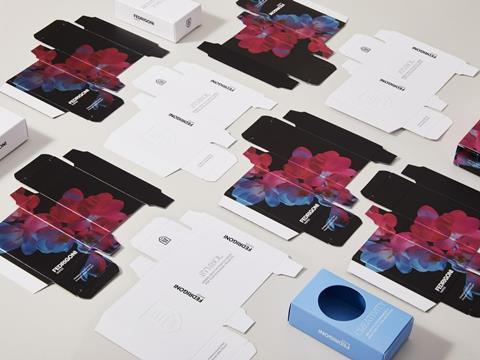 Fedrigoni Group has launched its new Symbol Pack range in pursuit of a high-quality unboxing experience for online shoppers, with the paper expected to be applied in the beauty, cosmetics, food, and beverage markets.
Available in shades of White and Premium White, Symbol Pack comes in weights of 230, 250, 310, 330, 360, and 400 g/m2. It has been designed with folding durability in mind and is produced from virgin pulp – a feature said to make the paper recyclable and biodegradable while enabling a clean die-cut and detailed image printing with a smooth coated surface.
With ISEGA also recognising Symbol Pack as Food Contact Certified, it is also said to provide 'excellent' colour fastness to light and is compatible with hot foiling, embossing, laminating, and varnishing, according to Fedrigoni.
The Symbol Card range is FSC certified and consists of Symbol Pack; Symbol Card, featuring a coated side with a satin finish and a printable, uncoated reverse; Symbol Card 2SC with a double-sided coating; Symbol Card ECO 100 with 50% and 100% recycled content; and the Symbol Card Hi-Bulk variety.
"Symbol Pack brings a new level of versatility to the Symbol Card family that we're excited to see unfold," said Ian Braithwaite, commercial manager at Fedrigoni UK. "Through our research and development we are able to push for increasingly innovative solutions to ensure our customers have the widest range of options to choose from in order to meet any requirements.
"We have carried out research and developed solutions for years in order to reduce the environmental impact of our supply chain, so we're inspired to continue creating products like Symbol Pack that are able to seamlessly enter the circular economy."
Other recent developments from Fedrigoni include a unified range of paper packaging and self-adhesive materials that aim to facilitate product authenticity and tracking in e-commerce applications; and its new Re-Play product line, which intends to upcycle discarded glassine from other self-adhesive products into a new labelling solution.
Mondi has also expanded its FunctionalBarrier range of medium, high, and very high-barrier paper-based packaging with the goal of replacing multi-material, aluminium-based packaging and unrecyclable plastic laminates.
If you liked this article, you might also enjoy:
McDonald's Director of Sustainability in Europe on the company's approach to packaging sustainability
McKinsey on whether or not on-pack sustainability claims affect consumer spending
Perspectives from industry-leading experts on the EU's Packaging and Packaging Waste Directive revisions
A deep dive into the most important packaging sustainability trends and solutions