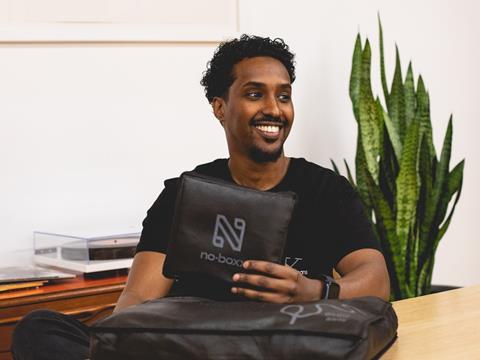 Reusable packaging and retail tech start-up no-boxx is working to reduce single-use packaging waste, drive down carbon emissions, and optimise traceability in e-commerce with its reusable pouch packaging and tracking application.
no-boxx's reusable pouch is made from rPET and is available to both manufacturers and retailers in three sizes to accommodate products of various sizes and in different quantities.
According to the company, it can potentially be used over 20 times, and consumers are encouraged to return the packaging to the retailer after every delivery. By the second use, it is thought to reduce CO2 emissions by 87%.
Meanwhile, its proprietary web application is used to track the packaging's life cycle. Consumers and retailers can check in on the status of their deliveries and returns, as well as visualising the environmental impact of their switch to a reusable pack.
The solution is currently being utilised by a sustainable activewear brand in a pilot scheme and a wider roll-out is planned for later in the year. no-boxx has also secured a partnership with InPost Lockers in a bid to smoothen the returns process, in which consumers can receive a QR code and drop off an item or a pack at any 24/7 InPost Locker.
"Imagine a world where online shopping and returns are not only convenient, but also environmentally responsible," commented no-boxx founder and CEO Zak Rashid. "no-boxx provides a sustainable, circular-packaging model, that has innovation and customer satisfaction at its core. We believe in combining cutting-edge technology and design to create a more environmentally friendly and efficient packaging solution for e-commerce retailers.
"Sustainability doesn't have to come at the price of quality. All packaging once returned to the depot will be inspected and cleaned, allowing it to be reused again to increase its circularity. Any damaged items will be recycled and used for new packaging materials. It's an entirely circular and sustainable process."
no-boxx is a\also a member of the tech start-up support programme Exchange, which aims to provide tech start-ups with a community of like-minded entrepreneurs at Department Bonded Warehouse, an experienced mentor and advisory network, and regular learning and networking events in order to scale up.
In November last year, online retailer MODIVO SA introduced a range of corrugated boxes and paper-based MailerBAGS from Mondi to its fashion items.
The Fedrigoni Group has revealed a range of unified, customisable paper packaging and self-adhesive materials in a bid to optimise the authenticity and successful tracking of products in the e-commerce industry.
On a broader note, Smithers has underlined resealability, rightsizing, and recyclability as some of the most important features of premium packaging in the e-commerce space.
If you liked this article, you might also enjoy:
McDonald's Director of Sustainability in Europe on the company's approach to packaging sustainability
McKinsey on whether or not on-pack sustainability claims affect consumer spending
Perspectives from industry-leading experts on the EU's Packaging and Packaging Waste Directive revisions
A deep dive into the most important packaging sustainability trends and solutions