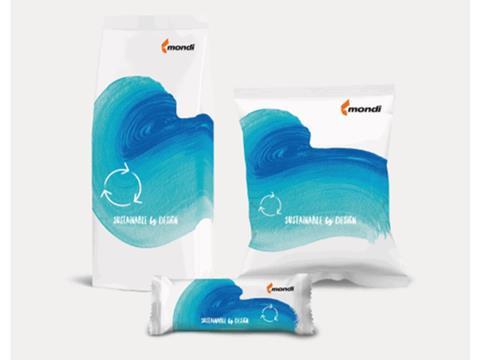 Mondi has expanded its FunctionalBarrier range of medium, high, and very high-barrier paper-based packaging to create what it describes as a recyclable substitute for multi-material, aluminium-based alternatives and unrecyclable plastic laminates.
Designed for industrial, e-commerce, and personal care applications, the range applies such barrier technologies as extrusion and aqueous coatings and are expected to provide product protection and a long shelf life for consumer food products such as coffee, cereal, and confectionary.
Specifically, Mondi notes its Medium Barrier papers for their sealability, medium water vapour barrier, and applicability for such industrial uses as cement bags. Meanwhile, its High Barrier papers apparently provide protection from oxygen, grease, and mineral oil. The latter is designed to reduce the amount of material used in a pack and can also be used in packaging tape.
With its high water vapour, oxygen, grease, and oil barrier functions, the Very High Barrier paper is thought to be applicable to any food product – including powdered milk, which requires high barrier protection for preservation, says Mondi. It aims to substitute plastic- and aluminium-based multi-materials and ensure that packaging products are compatible with current recycling streams.
The range is also designed to be recyclable in European paper streams and claims to utilise responsibly sourced base material, providing a renewable packaging solution to be used in place of difficult- or impossible-to-recycle materials. Mondi states that the papers are certified by PTS/Cyclos, and while it considers adherence to accepted industry guidelines and testing protocols a precondition for recycling, it acknowledges the variety of sorting and access to end markets across regions and countries. As such, it says that its products are recyclable in locations that currently have access to the appropriate collection, sorting, and recycling infrastructure.
"We live by our approach of using paper where possible, plastic when useful and our range of FunctionalBarrier Paper is a perfect example of this," says Thomas Ott, CEO of Flexible Packaging at Mondi. "There is more than one way for our customers to achieve their sustainability goals and our unique market position and value chain means we can tailor our solutions to meet their needs.
"We develop packaging solutions that are sustainable by design while still providing the necessary protection for their products. This is in line with our Mondi Action Plan 2030 (MAP2030) commitment to make all our packaging solutions reusable, recyclable and compostable."
Although the barriers are currently said to be fossil-based, they were apparently tested at Mondi's recycling laboratory and external locations and yielded 'good results'.
Rotor Print made a similar development with its ready-to-recycle, high-barrier paper – a finalist under the 'Recyclable Packaging' category at the Sustainability Awards 2022.
UPM Specialty Papers also unveiled its renewable Confidio and Confidio Pro papers with moisture, grease, and mineral oil resistance, said to be both pulpable and compatible with paper recycling streams.
Furthermore, Billerud used a coating to replace standard plastic film barriers in its Performance White Barrier sack paper.