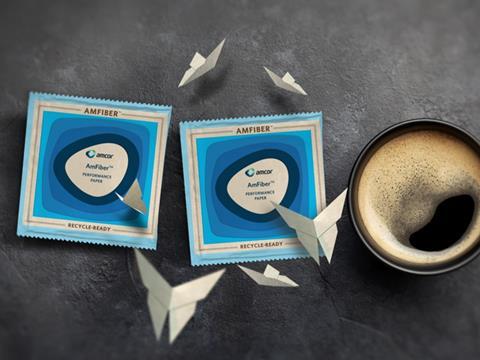 Amcor has expanded its AmFiber Performance Paper packaging range to include heat seal sachets for instant coffee, drink powders, spices, and other dry culinary and beverage applications.
Originally rolled out to package snack and confectionary brands, AmFiber Performance Paper is a high-barrier, recyclable pack said to protect against oxygen and moisture and provide 'excellent' performance on brand owners' packaging machines.
Amcor is also seeking to meet growing demand for paper packaging of this kind by investing in manufacturing capacity. It has integrated a 'state-of-the-art' production line at its Amcor Flexibles Alzira plant, which can now produce cold- and heat-seal AmFiber packaging in a bid to ensure product protection.
"AmFiber Performance Paper offers brands the best of both worlds," said Ilya Syshchikov, vice president, Global Product Management AmFiber. "From a technical point of view, it delivers high barrier and excellent machinability. From an environmental point of view, it's PVDC-free, available in FSC-certified paper, and recyclable in most European countries.
"In fact, independent recycling tests conducted by organisations such as Aticelca and PTS, have demonstrated an impressive material recovery rate during the recycling process.
"We have many exciting projects in our R&D pipeline for paper, and this expansion into culinary and beverage packaging is another important milestone toward developing recyclable paper packaging for all the segments we serve."
At interpack 2023, UPM Specialty Papers and Henkel displayed their heat-sealable barrier paper material with a "high level" of grease resistance.
Mondi recently broadened its FunctionalBarrier range of medium, high, and very high-barrier paper-based packaging. The range intends to replace multi-material, aluminium-based materials and unrecyclable plastic laminates with a recyclable alternative.
Fedrigoni Group's Symbol Pack paper packaging range has also been launched to package beauty, cosmetics, food, and beverage products in e-commerce channels.
If you liked this article, you might also enjoy:
McDonald's Director of Sustainability in Europe on the company's approach to packaging sustainability
McKinsey on whether or not on-pack sustainability claims affect consumer spending
Perspectives from industry-leading experts on the EU's Packaging and Packaging Waste Directive revisions
A deep dive into the most important packaging sustainability trends and solutions