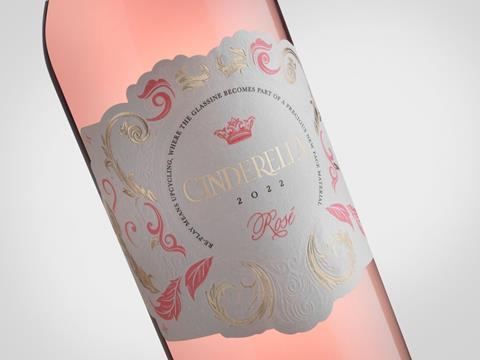 Fedrigoni Self Adhesives has unveiled its new Re-Play product line, which aims to upcycle the discarded glassine backing of other self-adhesive products into a new premium labelling solution.
According to Fedrigoni, the siliconised backing of previous self-adhesive solutions is typically discarded and has only ever been partially recycled. In a collaboration with Les Papeteries de Clairefontaine, the recovered glassine is now being combined with white waste paper to form a new self-adhesive material – said to constitute of 100% recycled material, correspond with FSC certification, and negate the need for an invasive de-inking process.
Each product is thought to contain around 10% to 20% recycled glassine. Customers can also choose between papers in various forms and textures, including an uncoated Natural White design; a Neck Label of similar texture for bottlenecks and reduced diameters; and textures ranging from Pearlescent to the embossed Martelé and Retrò papers.
Within this development, Fedrigoni aims to increase product value throughout its value chain by reducing the amount of waste produced and ensuring that the rest is upcycled. It also hopes that the Re-Play range will contribute towards its 2030 sustainability goals, which include a 30% reduction in Scope 1 and 2 CO2 emissions; a 100% recovery for its industrial waste; and a growth from 35% to 70% in the ESG features of its self-adhesive product portfolio in comparison with its 2019 base year.
"The project is an excellent example of involving the entire supply chain in the circular economy process, starting with the printers: in fact, Fedrigoni Self-Adhesives collects and recovers the liner at customer sites, contributing to the reduction of waste produced and energy consumption", says Fernando Giron, roll sales director at Fedrigoni Self-Adhesives. "We chose this path because it aligns with several of our ESG targets in terms of reducing waste and CO2 emissions."
In another waste reduction project, UPM Raflatac's PET liner waste was set to be processed by Inosence Polyol and utilised by Finnfoam to produce insulation.
UPM Raflatac also incorporated certified ocean-bound plastic waste into its Ocean Action labels in a collaboration with HHI, SABIC, and Taghleef Industries; and Ahlstrom-Munksjö expanded its line of release papers based on renewable fibres for pressure-sensitive adhesive silicone coatings.