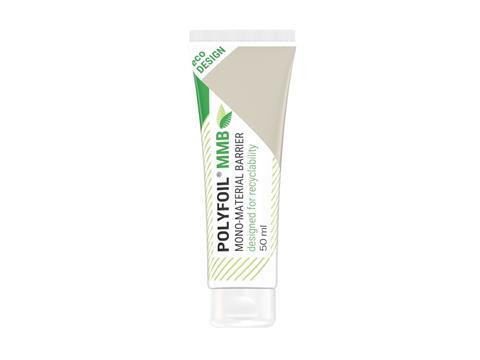 Hoffmann Neopac, a global provider of packaging for pharmaceuticals, beauty, and oral care, has been granted approval for its Polyfoil MMB mono-material barrier tube by the Association of Plastic Recyclers (APR).
According to Neopac, the tube body is made through a "first-of-its-kind" adhesive laminated process, which differs from the existing blown film and extruded film solutions recently adopted by oral care brands. This reportedly offers advanced barrier and aesthetic options in the tube body.
In addition, Neopac says the tube's shoulder and cap are made with low MFI HDPE and 2% foreign material. The solution is available with a metallised look and, whe combined with Neopac's HDPE screw and hinge closures, is allegedly fully ready for recycling in PE rigid streams.
Neopac claims that the Polyfoil MMB tubes can reduce packaging carbon footprints by up to 38% compared with traditional laminated tubes. The tubes also offer "attractive" printing and decorative options, according to the company.
To gain approval from the US-based Association of Plastic Recyclers, a review committee appointed per the APR Recognition Operating Procedures reviewed Neopac's data submission.
The group concluded that the research was "correctly developed by a qualified laboratory", as well as certifying that the Polyfoil MMB tubes meet or exceed test conditions and criteria for recyclability in the HDPE bottle stream. The tubes both with and without the thin film metallisation option passed the assessment, according to Neopac.
In 2020, Neopac's Polyfoil MMB tubes were successfully tested according to RecyClass' Recyclability Evaluation Protocol for HDPE Container standards – the first solution incorporating a thin film metallisation option to be approved by the group.
The first series of Polyfoil MMB tubes is now available. Neopac says that oral care brands have committed to making the shift to the tubes this year, with both pharmaceutical and cosmetic customers apparently performing stability and compatibility tests.