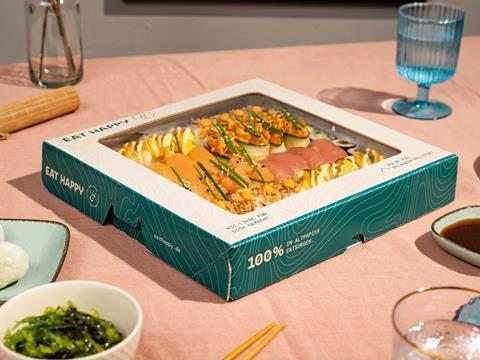 DS Smith and Eat Happy have worked together to develop what claims to be a fully recyclable solution for sushi trays, expecting to replace an annual 1,250 tonnes of single-use plastic with high-barrier corrugated cardboard.
Both the trays and the lids are apparently made of renewable raw material and repel both grease and water to protect the packaged sushi. Each is available in a range of shapes and sizes for single and party platters.
DS Smith's Circular Design Metrics approach, which intends to gauge the suitability of a product for the circular economy and identify areas of improvement, was used to design the solution. This involves the evaluation and tailoring of a product-unique solution against a formula of eight set criteria surrounding recyclability, renewable materials, and supply chain optimisation.
It is anticipated that the solution will coincide with DS Smith's strategic growth plan across packaging for the fresh food sector.
"The fresh food segment is one of the future growth markets that always presents us with exciting tasks," says Volker Quaas, head of Design and Innovation for Germany and Switzerland, DS Smith. "The biggest challenge for us is that freshly prepared sushi remains in direct contact with the packaging during the refrigeration process at counter level.
"It's also vital that the product can be seen and is visible via a window within the tray and these careful design elements need to fit fully with materials that work within the circular economy. The solution is beneficial for our clients because it is fully in line with current legislation to avoid single-use plastic."
Eat Happy Group CEO Florian Bell adds: "We spent a long time working on a new, more sustainable packaging solution that meets the stringent requirements for our products. We're delighted that, with DS Smith's help, we can now finally launch packaging that does just that.
"The new innovative packaging solution will allow us to meet our retail partners' and customers' increasing demand for more environmentally friendly packaging. But it also means we as a company can help protect the climate and the environment.
"So, moving to a sophisticated, fully recyclable packaging solution made of natural, renewable materials is particularly important for us. The consultation process with the team from DS Smith was focused on our specific aims and we worked together to overcome the major challenges that freshly rolled sushi poses."
Late last year, Iceland and Parkside rolled out a recyclable paper pouch with water-based coatings to replace the LDPE bag for its frozen seafood range, while Angulas Aguinaga's Krissia brand chilled surimi sticks were repackaged in recyclable, paper-based secondary packaging from Mondi.
More recently, Tesco and Keep Sea Blue sought to divert 500 tonnes of discarded plastic away from the ocean by implementing recycled plastics into its fresh fish packaging.
If you liked this article, you might also enjoy:
McDonald's Director of Sustainability in Europe on the company's approach to packaging sustainability
McKinsey on whether or not on-pack sustainability claims affect consumer spending
Perspectives from industry-leading experts on the EU's Packaging and Packaging Waste Directive revisions
A deep dive into the most important packaging sustainability trends and solutions