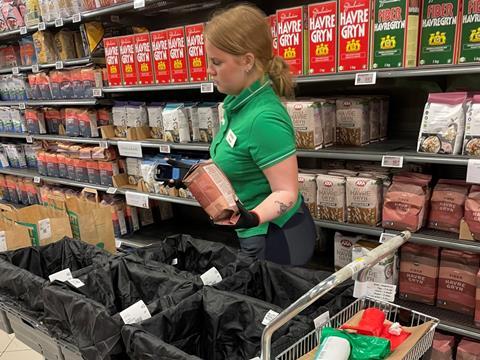 Coop and Gordon are joining forces on a pilot project to deliver refrigerated food to consumers' doorsteps in reusable crates and bags in a scheme thought to reduce the climate impact of paper bags.
Gordon is a last mile company that delivers refrigerated goods to consumers' homes in four Nordic countries. Alongside physical packaging, it offers logistics and tech solutions designed to ensure traceability and communication with consumers.
Its partnership with Coop marks the first time a grocery chain has piloted the system, known as Gordon Circular.
The packaging features a solid outer crate to protect the goods during transit and a soft reusable bag for picking and handling during the delivery process. Gordon then collects the used packaging upon the next delivery, whereupon the crates are washed for reuse.
Linköping University has conducted a life cycle analysis suggesting that five loops of the crate packaging result in the entire system having a lower climate impact than the single use of a paper bag. Using the crate a further twenty times is thought to reduce its climate impact by 65% compared to a paper bag.
Reportedly, Coop customers filled all the places in the test group in one day, and Gordon Circular is set to be scaled up in Sweden once the pilot is complete.
"We are looking forward to starting the pilot together with Gordon," says Niklas Zeitlin, responsible for e-commerce at Coop Sweden. "We see the development of circular packaging as necessary given the large volumes of daily goods that are delivered to customers today."
"Coop's goal is for us together with Gordon to better understand how we can find the best ways to make it easier for our e-commerce customers and reduce resource use," continues sustainability manager Mattis Bergquist. "We are doing this to be able to adjust our operations and then scale up the way of working so that more customers at coop.se can take part in the solution."
Catherine Alsén Gelfgren, project manager for Gordon Circular, adds: "Being able to demonstrate so early in the development that consumer benefits can be combined with environmental benefits is incredibly fun. Our hope is that consumers will find it easy to receive and return these reusable bags and we are so happy that Coop wants to test this with us."
In a similar move, Uber Eats is trialling an alternative reusable system for doorstep collection, hoping to drive down an excess in single-use takeaway food packaging and optimise consumer convenience.
Milk & More and Again also teamed up to collect and reuse Tom Parker Creamery's glass bottles from consumers' doorsteps in an effort to cut down on CO2 emissions and water usage – a partnership that recently extended to include additional dairy products and beverages.
If you liked this article, you might also enjoy:
McDonald's Director of Sustainability in Europe on the company's approach to packaging sustainability
McKinsey on whether or not on-pack sustainability claims affect consumer spending
Perspectives from industry-leading experts on the EU's Packaging and Packaging Waste Directive revisions
A deep dive into the most important packaging sustainability trends and solutions