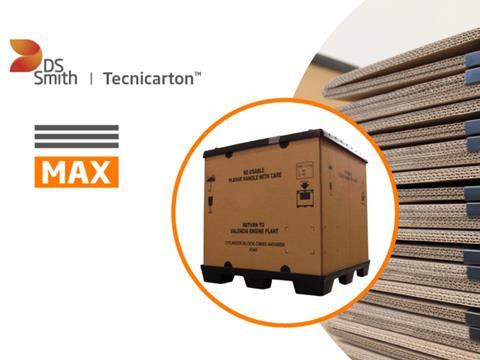 DS Smith Tecnicarton is aspiring to strengthen the resistance of corrugated cardboard packaging, optimize its stacking capabilities, and realize its potential as a reusable and fully recyclable transport solution with the launch of its MAX lamination technology.
Back in 2017, DS Smith opened a facility in Arborç, Tarragona, specializing in laminating corrugated cardboard sheets. Twenty-six packaging facilities, six recycling facilities, and three paper-making facilities are currently operated by DS Smith Iberia across the peninsula.
Up to ten layers of corrugated cardboard have now been superimposed by the provider's expert designers – including standardized special folding creases to increase resistance in a larger box format – to create MAX technology. The design stems from a six-wave laminated packaging solution comprised of up to ten channels.
Reportedly, the Magnus-IBC Kraft – DS Smith's heavy-duty packaging – has a capacity of 1000 litres and resistance of 10,000 KG. The bulk packages are designed to serve as a 100% recyclable replacement for Intermediate Bulk Containers (IBCs), which are traditionally made from plastic.
It is claimed that the company's circular economy design metrics approach has led to 'significant' and 'market leading' improvements to the technology of large laminate packaging casings. For example, bespoke ergonomic creases are thought to streamline the assembly process.
Furthermore, they improve foldability and claim to have saved space during supply chain and reuse cycles, as well as decreased CO2 emissions in transit. In the automotive sector, Tecnipack cardboard has apparently allowed laminated strips to be re-used up to ten times within the transportation supply chain between Spain and the USA.
The lamination technology is also believed to increase resistance and enable the replacement of wooden packaging with a cardboard alternative.
According to DS Smith Tecnicarton, 100% of its packaging products are reusable or recyclable. DS Smith has also expressed its commitment to achieving its Now & Next Sustainability Strategy, 'Redefining Packaging for a Changing World'.
"We are constantly looking for ways to innovate and find solutions to the environmental challenges of the day," says Ignacio Montfort, managing director at DS Smith. "Our company-wide 'Now & Next' sustainability strategy and vision is a benchmark for our product innovations and targets.
"We are confident that these new packaging product innovations will positively impact on the packaging supply chain and environment for future generations, as well as for our present-day clients and their customers as we accelerate the transition to a low-carbon circular economy."
DS Smith recently joined forces with Eat Happy to produce a 'fully recyclable' packaging solution for sushi trays; it is set to replace 1,250 tonnes of single-use plastic with high-barrier corrugated cardboard every year.
It also collaborated with Coca-Cola HBC, Krones, and Mondi over three years to create LitePac Top, a cardboard and paper alternative to plastic shrink. It is now being trialled on 1.5-litre multipacks of Coca-Cola, Fanta, and Sprite in Austria.
In other news, Robatech has developed its PerfectFold liquid creaser for adhesive application systems, designed to optimise the process of assembling corrugated cardboard boxes with quick and precise folding.
If you liked this article, you might also enjoy:
The L'Oréal approach to packaging sustainability
What steps is Apple taking to make its packaging more sustainable?
How did Brazil achieve its 100% aluminium can recycling rate – and can it be replicated in the EU?
Experts have their say on the EU's Packaging and Packaging Waste Directive revisions