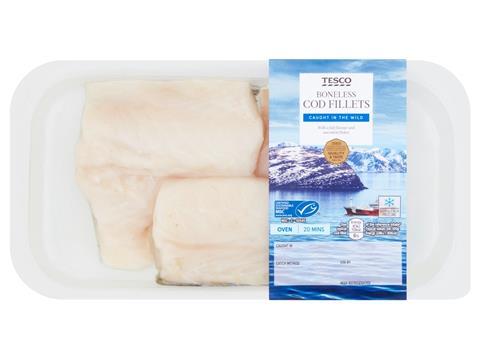 Tesco is partnering with Keep Sea Blue to incorporate recycled plastics into its fresh fish packaging, with the goal of keeping 500 tonnes of discarded plastic out of the ocean.
The supermarket's salmon, haddock, cod, and sea bass lines are set to be sold in trays containing at least 30% recycled coastal plastic collected from beaches, coastlines, and coastal communities within 10km of the Mediterranean Sea. This is hoped to facilitate the reduction of virgin plastics in both the packaging itself and at-risk environments near the ocean.
A network of collectors across the region – including local authorities, non-profits, volunteer groups, and the private sector – will apparently collect the plastic, at which point the PET packaging will be sorted, grinded, washed, and recycled to be utilised in food-grade packaging materials. Keep Sea Blue plans to ensure full traceability by monitoring and certifying the circularity of the plastics via its Blockchain Platform, powered by Oracle Blockchain technology.
"Where we can, we are reducing the amount of new plastic we use in our business," said Sarah Bradbury, quality director at Tesco. "Re-using coastal plastic in our fish packaging is one way we can do that and at the same time keep it out of the oceans." 
Lefteris Bastakis, founder of Keep Sea Blue, added: "Mismanaged plastic waste can only be solved by many partners working together. We are glad that Tesco is making a meaningful and active contribution to this programme towards protecting the Mediterranean Sea from plastic pollution and building a more sustainable future." 
In another effort to keep plastic waste out of the ocean, Nozama's Plastiks platform worked alongside Gravity Wave to certify the plastic it recovers and reuses from the Mediterranean Sea.
The non-profit Ocean Legacy has also launched its plastic pellets – made of 100% post-consumer processed recycled marine plastics – on the North American market, while UPM Raflatac has used a mass balance approach to incorporate certified ocean-bound plastic waste into its Ocean Action labels in collaboration with HHI, SABIC, and Taghleef Industries.