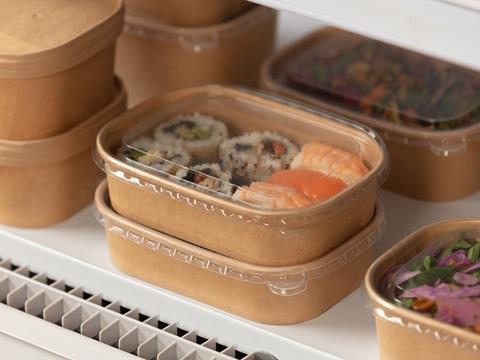 Colpac has extended its recyclable, food-contact Stagione range to include PE-coated pots and implement ovenability into its PP-coated packaging.
The Stagione PE-coated pots are designed for applications that do not require reheating. Their PE coating is set to offer grease resistance for instant serve, hot hold, chilled, and delivered food products.
Single-skinned, PE-lined lids made of paperboard are also available for the pots; these are said to contribute to the light weight of the pack. Their self-venting tabs make them compatible with a range of food temperatures and times between preparation and serving, according to Colpac.
An additional rPET lid features an anti-mist coating that ensures the food it packages remains visible in chilled temperatures. Both lids are available for all three sizes of PE-coated Stagione pots in a bid to drive down SKU for distributors and retailers.
Thought to be lightweight solutions that optimise the efficiency of transport, the pots are available in 500ml, 750ml, and 1000ml sizes, apparently at a low cost. However, where a higher specification barrier is required for oily and acidic foods, Colpac has developed PP-coated alternatives, both in tray and bowl form.
These have now been certified for oven and microwave reheating and display for hot hold cabinets, the company reports. Moreover, they are suitable for specific oven parameters, and Colpac offers its service to customers testing the ovenability on an individual, food type-specific basis.
The company states that the whole range is recyclable within UK and European guidelines, responds to increasing market demand, and seeks to provide both functionality and sustainability within the same packaging solutions.
Previous developments from Colpac include the expansion of its Platters range for a hygienic buffet experience and a new range of multi-food pots said to contain a maximum of 7% plastic in their bases and meet OPRL guidelines.
Since then, Sabert Corporation Europe has announced its recyclable Snap2Go tray for chilled meals and food-to-go outlets – complete with an anti-fog, high-visibility rPET clip-lid – and Holmen Iggesund has revealed a 30-gsm version of its fibre-based, PET-coated ready-made meal trays that hopes to reduce the plastic content of its previous design by over 25%.
If you liked this article, you might also enjoy:
The Lidl approach to packaging sustainability
How did Brazil achieve its 100% aluminium can recycling rate – and can it be replicated in the EU?
Experts have their say on the EU's Packaging and Packaging Waste Directive revisions
A deep dive into the most important packaging sustainability trends and solution