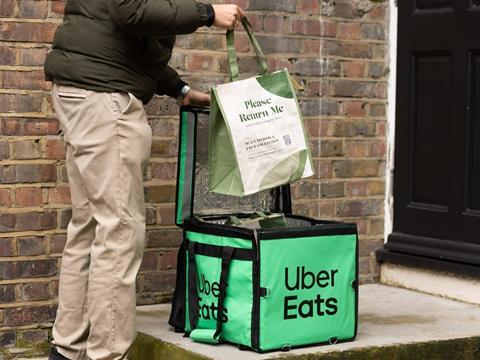 Uber Eats is aspiring to counteract an excess in single-use takeaway food packaging by trialling an alternative reusable system featuring doorstep collection to optimise consumer convenience.
Hubbub and Starbucks' Bring It Back Fund has provided funding for the project, which is being managed by reuse technology company Again. Over the course of six months, it will test and measure whether localised collection from consumers' homes will encourage an uptake in reusable packaging solutions.
Consumers will be given the option to opt-in to receive their food in reusable packaging, which will arrive with a QR code. This can be scanned via a smartphone to schedule collection within the span of the next three weeks, available as early as the following day.
A courier will then arrive in a car, an electric van, or on a bike to pick up the containers, which consumers are expected to rinse at home. Participants are located in central London and will include Ritto's, The Pepper Tree, Donburi & Co, Iro Sushi, Capital Kebab Restaurant, Shawarma Hut, and Viet Quan.
The trial will also experiment with different incentives to gauge which will increase opt-in and return rates amongst consumers.
"Today, reusable packaging is too inconvenient for everyday customers," explained Matt Kennedy, Again's founder and CEO. "We're excited to be partnering with the Bring it Back Fund to explore how we can make it really simple for customers to return packaging by trialling a new logistic service that will collect directly from customers' doors.
"As we look ahead to 2030, we see that household collections will pay will play a pivotal role in the scale-up of reusable packaging. Once vehicles are collecting from households, new products, new retailers and new meal delivery platforms are incremental. We are creating an exciting future of low-cost household takeback for all products."
"This trial is a pioneering new approach to challenge single-use packaging in the food and drink sector," said Gavin Ellis, director and co-founder of Hubbub. "We are really pleased to see this collaboration between retailers, delivery apps, logistics and tech to bring convenience to customers wanting to do their bit.
"By integrating the reuse option into a delivery app used by many households and by offering doorstep collections, we hope to see significant uptake of reusable takeaway packaging. The trial will help create a better understanding of what works and what doesn't at a local level, and hopefully lead to wider roll out of this reuse system across more businesses and areas."
"This pilot aims to make reusable packing more accessible for customers and restaurants alike," added Matthew Price, Uber Eats' general manager, UK and Ireland. "We know consumers care about the impact that their decisions have on the environment, and we are delighted to be part of this innovative trial which is another step in our mission to do our part in helping the food delivery ecosystem transition to a cleaner and greener future."
Again is one of six winning projects to receive funding under the Bring It Back fund. In a similar project to this one, it has worked alongside Karma Kitchen to test localised doorstep at-home collection for reusable packaging, which is cleaned using Again's proprietary packaging cleaning facilities.
Meanwhile, a collaboration between Uber and Visa has resulted in a new programme to support small-to-medium-sized Uber Eats restaurants in the transition towards sustainable packaging solutions, and the #InTheLoop grant fund from Hubbub and McDonald's is set to contribute towards the efforts of local authorities to introduce or improve public recycling facilities.