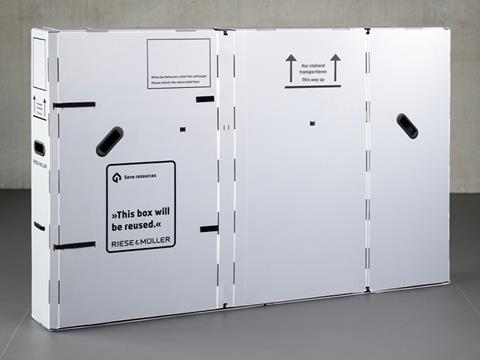 Rhinopaq and Circular Logistics have with Riese & Müller to ship its e-bikes and small components in reusable plastic packaging – a move expected to reduce an initial 905 tonnes of cardboard waste every year.
The BikeBox is made from polypropylene, chosen for its durability, resilience, and recyclability. Apparently, the packaging can be reused up to 30 times and saves around 80% of CO2 in comparison with conventional packaging solutions.
These reusable boxes are designed to match the sizes of the currently available cardboard boxes and can be folded down once the product has been delivered. Consumers can then send them back to Riese & Müller through all European road freight routes, including those in Switzerland.
The process, which claims to be the first of its kind amongst e-bike manufacturers worldwide, reportedly saves around 880 tonnes of cardboard a year and reduces the accumulating volume of waste by 95%.
Small components, meanwhile, come in foldable boxes said to be made of 60% recycled materials. These can be reused up to 20 times, the companies say, and seek to save 25 tonnes of cardboard every year.
Furthermore, the boxes' hook-and-loop fastening is intended to negate the need for additional adhesive tape.
Scheduled to be tested with selected dealers in September, the packaging designs are set to be produced entirely in Germany. Up to 60% of e-bike packaging and 70% of small component packaging is set to be switched to reusable materials by early 2024.
In a similar development, Continental has repackaged its high-tech mountain bike tyres in recycled corrugated cardboard from STI Group. Its integrated handle is designed to hang the pack on a Euro hook and help consumers carry the product home.
The Last Box – a reusable shipping solution from Returnity – intends to replace almost four million cardboard boxes for shipping and delivery in retailers' internal operations this year.
Additionally, Rhinopaq was a winner of Circular Valley's Circular Economy Accelerator programme. Its recycled polypropylene boxes and envelopes for e-commerce applications aspire to meet the rising popularity of online shopping following the COVID-19 pandemic while combating the felling of trees to produce fibre-based packaging.
If you liked this article, you might also enjoy:
The Lidl approach to packaging sustainability
How did Brazil achieve its 100% aluminium can recycling rate – and can it be replicated in the EU?
Experts have their say on the EU's Packaging and Packaging Waste Directive revisions
A deep dive into the most important packaging sustainability trends and solution