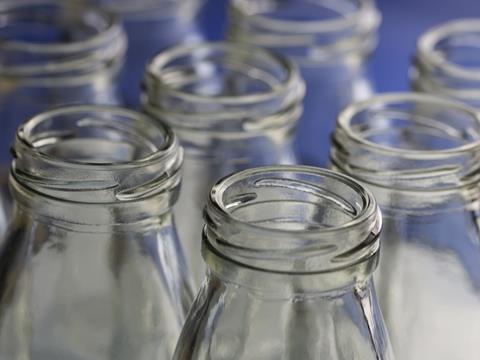 Milk & More is extending its partnership with Again to include additional dairy products and beverages in their delivery and collection scheme for reusable glass bottles.
The announcement follows an initial region trial with Tom Parker Creamery earlier this year, which provided customers with refillable glass bottles and a complementary doorstep collection service. Now Milk & More's refillable glass bottle range has taken on 25 new product lines, resulting in a total of 77 lines with a refillable packaging option.
Products from Belu Water, Wenlock Spring, The Village Press, River Cottage, Belvoir Farm, and Brown Cow Organics have been incorporated into the bottle range – packaging such products as water, soft drinks, cream, flavoured milks, yoghurts, and new juices.
Furthermore, Coca-Cola Europacific Partners has partnered with Milk & More to trial a delivery and collection service for refillable one-litre bottles of Coca-Cola Zero Sugar.
Through their partnership, Milk & More and Again aim to reuse up to an additional three million items of packaging a year across a range of six products that would otherwise be sold in single-use packaging. Milk & More expects that its current zero-waste packaging offering – apparently constituting 80% of all its sales and over 80 million units of packaging a year – will increase as a result of its Home of Refill initiative.
The companies also aspire to offer consumers a convenient means of engaging with more sustainable packaging practices, citing Zero Waste Europe's statistic that, when reused at least five times, reusable glass bottles reduce the CO2 emissions in a product's life cycle by over a third compared to single-use glass bottles.
"As the 'Home of Refill' we know that our customers want to be more sustainable, and we are dedicated to helping them make a difference by extending our offering and supporting brands to switch to refillable packaging," says Patrick Müller, CEO of Milk & More. "By expanding our partnership with Again we are offering our customers the service they know and love for even more products, delivered and collected by one of the largest electric delivery fleets in the country, while reducing their carbon footprint, and eliminating the use of pointless plastics."
On a broader scale, Planet Reuse and New ERA's rEUse campaign seeks to promote uptake in reusable packaging systems across European takeaway, beverage, and e-commerce sectors in response to the upcoming Packaging and Packaging Waste Regulation.
Nestlé's Jodie Roussell, Global Public Affairs Lead for Packaging and Sustainability, and Antje Shaw, Global Packaging Sustainability Manager, noted that convenience was a roadblock in the company's own reuse and refill trials. They also underlined the setback of food quality and safety concerns in hot climates and emphasised the roles of both policymakers and consumers in the success of reuse and refill systems.
If you liked this article, you might also enjoy:
McDonald's Director of Sustainability in Europe on the company's approach to packaging sustainability
McKinsey on whether or not on-pack sustainability claims affect consumer spending
Perspectives from industry-leading experts on the EU's Packaging and Packaging Waste Directive revisions
A deep dive into the most important packaging sustainability trends and solutions