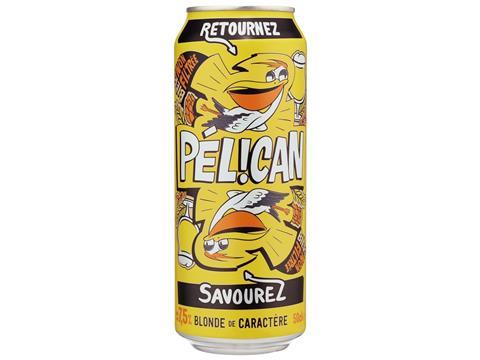 Ardagh Metal Packaging's H!GHEND printing technology is being applied to Heineken Enterprise's Pélican craft beer cans to encourage consumers to flip the pack and optimise the drink's flavour.
Since Pélican is an unfiltered beer, small deposits of leftover yeast can build up at the base of the can. Turning the can over and back spreads the yeast through the beer and achieve the desired taste.
To prompt consumers to do this, the words 'Retournez-Savourez' – translating to 'flip-enjoy' – is printed onto the can shell using H!GHEND technology. It is positioned with the intention that consumers will see the message before opening the pack, with white text on a black background chosen specifically to catch attention.
The can's horizontally symmetrical graphics, including mirror images of a pelican and a glass of beer, reinforce this function and incorporate it into the product's branding. The gold background has also been chosen to reflect the bière blonde inside the pack.
According to Ardagh Metal Packaging, the H!GHEND customisation series produces high-quality decoration in CMYK colours to match product branding, provide high-definition graphics for visual impact, and differentiate between packs for special edition decorations.
"We love to use cans because of their recyclability and lower carbon impact, and because they offer a big surface area for creative designs," explained Margaux Planquart, Senior Craft Brands Manager, Heineken Entreprise. "With Pélican as a new brand, we wanted to really differentiate the pack, so we chose H!GHEND to remind customers to engage in that moment of pleasure and ritual – the "flip" – that makes drinking unfiltered Pélican a special experience.
"Our Péli-can is the result of a super collaboration with AMP: we appreciated their expertise and creativity throughout the process."
Gerlof Toenhake, director Regional Sales at Ardagh Metal Packaging - Europe, added: "We're very excited that our customers are seeing the creative potential of H!GHEND. The ingenuity of the Pélican pack is that it uses H!GHEND to bring the pack and product together, and create an interactive moment for the consumer not just as a gimmick, but for practical reasons relating to the flavour of the product.
"Our customer services teams are ready to help all customers realise their creative ideas through H!GHEND and our other customisation options."
Pélican's new can will be available in-off trade in France from September.
Other cans with new branding include 7UP's 'comedic' shift in brand identity in its first major overhaul in seven years.
Pepsi has also celebrated its 125th anniversary with a new logo and other physical and digital touchpoints across its packaging.
A collaboration between Starbucks and Landor & Fitch resulted in a redesign for Starbucks' ready-to-drink chilled coffee portfolio. The new branding aims for distinctiveness and 'stronger emotional connections' between consumers and their drinks.
If you liked this article, you might also enjoy:
McDonald's Director of Sustainability in Europe on the company's approach to packaging sustainability
McKinsey on whether or not on-pack sustainability claims affect consumer spending
Perspectives from industry-leading experts on the EU's Packaging and Packaging Waste Directive revisions
A deep dive into the most important packaging sustainability trends and solutions