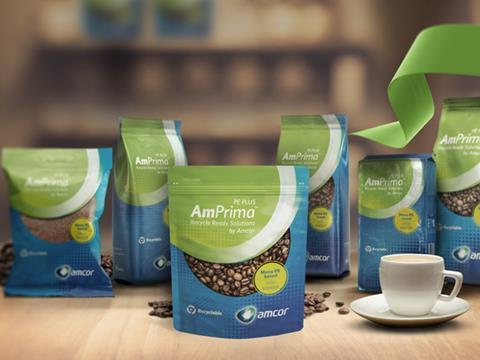 Amcor has expanded its AmPrima range of PE-based packaging with a range of pouches and wraps for coffee and cheeses, which the company claims can replace hard-to-recycle, multi-material options without any compromise on performance.
In early 2022, Amcor expanded the availability of its AmPrima recycle-ready solutions from North America to Europe for snacks, confectionary, and home and personal care products. The polyethylene (PE) portfolio will now include solutions for complex applications such as coffee and dairy, launching in April 2022.
AmPrima PE PLUS for roasted and ground coffee will launch first in Europe. Amcor says that the range is suitable for all typical coffee pack formats and sizes, including gusset bags, pillow packs, 4-corners seals, and vacuum packs. The range reportedly offers both lock/seal and peel options to protect freshness and aroma, as well as various colour, matte, and tactile finishes for shelf appeal.
The company adds that the PE-based packaging for coffee is treated for thermal stability, allows easy transition on existing filling machines, and has an innovative barrier coating for product protection. Amcor's analysis suggests that AmPRima PE PLUS has the potential to replace over 200 current non-recyclable coffee packaging specifications.
The April expansion to the AmPrima portfolio will also include PE and PE PLUS solutions for cheese in Europe. The available formats will include vertical or block flow wraps, 3-side seal pouches, and stand-up pouches. The company says that the range includes flow wrap suitable for hard cheeses, pouches for grated cheeses, and flow-packs for leak-prone cheeses such as mozzarella.
According to Amcor, the AmPrima cheese packaging solutions will allow brands to choose a full PE solution with robust product protection that fits the requirements of most European flexible PE recycling streams.
The AmPrima range is also designed according to CEFLEX guidelines for circularity and certified by cyclos-HTP for recyclability in the real world. Amcor says the range will help the company to meet its target of developing all of its packaging to be recyclable or reusable by 2025.
Noemi Bertolino, vice president of research and development at Amcor Flexibles EMEA, comments: "The AmPrima range has already been proven to work for our US customers, and we're happy to now offer it in Europe.
"For the latest applications in coffee and cheese, Amcor has run over 50 trials, and we are delighted to bring our customers a simple switch to more sustainable packaging.
"Fitting a wide range of packaging needs, the versatility of AmPrima demonstrates our commitment to ongoing innovation and finding more sustainable solutions where they previously did not exist."
Amcor has recently released two paper-based packaging solutions for food applications where typical packaging is often difficult to recycle. This includes the recyclable LifeSpan Performance Paper for confectionary and a home and industrial compostable paper wrapper for butter and margarine.