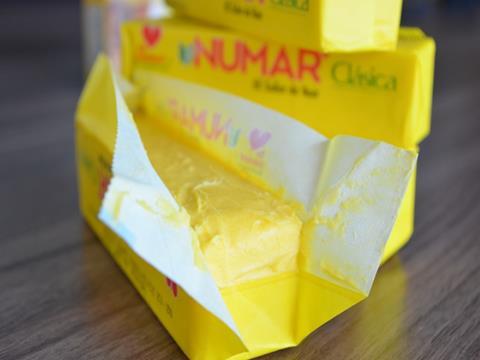 Amcor has created a new packaging solution for butter and margarine for Grupo Agroindustrial Numar S.A. in Costa Rica, which is made entirely from paper and certified as home compostable by TUV.
According to Amcor Flexibles Latin America, which developed the solution, the paper packaging offers the same shelf life and greaseproof properties as the previous paper and aluminium wrapping. The paper wrapper is apparently 38% lighter than the aluminium and paper lamination, with an ASSET life cycle assessment suggesting that the production and manufacture of the all-paper solution delivers an 81% lower carbon footprint in addition to decreased water consumption and non-renewable energy use.
Amcor Flexibles Peru reportedly dedicated its team to ensuring the product was as foldable as the previous packaging. Amcor adds that this helped it to overcome a key challenge with all-paper packaging design.
Amcor says that the paper is certified by the European compostable governing body TUV as compostable both at home and in an industrial setting. In 2018, Amcor pledged to design all of its packaging to be recycled, composted or reused by 2025 – the first global packaging company to do so.
Earlier this year, Amcor launched LifeSpan Performance Paper for the snacks and confectionary market, which reportedly has a paper fibre content of over 80% and offers high-barrier and grease-resistant properties while being recyclable.
Wipak also recently announced its kerbside recyclable, FSC-certified paper wrap for butter, which it claims offers a 68% carbon reduction compared with aluminium, LDPE, or paper barrier alternatives.