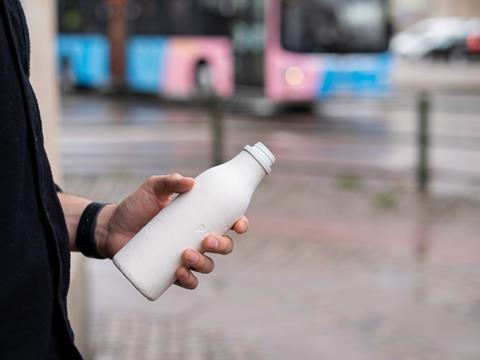 Pulpex, the paper bottle company working with the likes of BASF, Estée Lauder, Stora Enso, and Unilever, has joined the 4evergreen Alliance – closely following its competitor, Paboco, which also became a member of the organisation in January of this year.
Pulpex, a packaging technology company established by venture management firm Pilot Lite and spirits producer Diageo, has developed what it claims to be the world's first 100% PET-free paper bottle made from FSC-certified wood fibre pulp.
The Pulpex bottle is currently suitable for applications including alcoholic and non-alcoholic beverages, liquid foods, home care, personal care, and consumer healthcare, while the company says it is working on being able to contain hot-fill and carbonated products in its bottles by the end of 2022.
The company has collaborated with BASF on a proprietary, food-grade barrier coating for the paper bottles. Stora Enso, which provides formed fibre material to Pulpex, is also involved with the industrialisation and scaling of the paper bottles. Both BASF and Stora Enso are existing members of the 4evergreen Alliance.
Pulpex has now joined the 4evergreen Alliance, becoming the organisation's 87th member. 4evergreen is a collaborative initiative aimed at improving the circularity of fibre-based packaging, which has developed a set of design guidelines for ensuring that fibre-based packaging is ready for recycling from the beginning of its lifecycle.
Scott Winston, CEO at Pulpex, comments: "The synergy between Pulpex and 4evergreen's cross-industry alliance is true testament to the collective power of collaboration.
"We are delighted to join as a member of 4evergreen as we continue our exciting journey into the future of sustainable packaging."
Pulpex also joins Unilever, another of its collaborators, as a member of 4evergreen. Unilever is set to debut what it is calling the world's first paper-based laundry detergent bottle for its OMO brand (also known as Persil, Skip and Breeze) in Brazil in 2022, based on its partnership with Pulpex. The company is hoping to roll out the paper-based bottle, which includes the proprietary spray-on coating that repels water, for its laundry brands in Europe and other countries soon after.
Paboco, a paper-based bottle consortium that includes Procter & Gamble, Absolut, and The Coca-Cola Company, joined 4evergreen in January this year, with Gittan Schiöld, CEO of Paboco, saying the aim of its membership was to "put paper bottles on the map and to define the future route for recycling of such new packaging types". Last month, Paboco announced that its bottles, which contain an inner layer of plastic, will feature a fibre-based closure from Blue Ocean Closures, apparently taking the company a step closer to achieving its version of a 100% paper-based bottle.
Another member of the 4evergreen Alliance, HP, recently acquired CHOOSE Packaging, the inventors of patented technology for the production of an allegedly zero-plastic paper bottle made with naturally occurring and non-toxic materials.