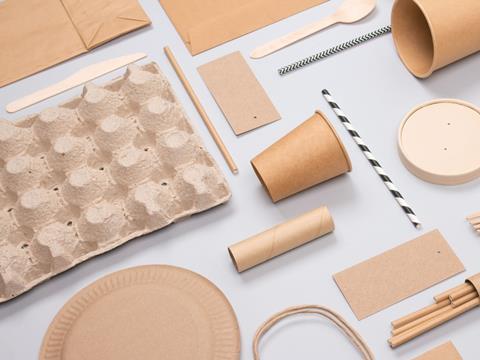 The cross-industry initiative, 4evergreen alliance, has released its Circularity by Design guideline aimed at providing the packaging value chain with clear recommendations for designing fibre-based packaging for recycling from the start of its lifecycle.
According to the guidelines, "the amount of variety of fibre-based packaging on the market is continuously growing and becoming more complex. Innovative solutions are therefore needed to maintain and further increase the recycling rates across Europe" – including a greater consideration for material compositions and adaptions to recycling processes.
The aim of the report is to examine the impact of different components on fibre-based packaging and how these affect the paper recycling processes, in order to present design recommendations. 4evergreen says that the report is intended for actors along the entire value chain, from manufacturers to retailers, including packaging designers.
4evergreen identifies paperboard, corrugated board, multi-layered board, packaging paper (including special and functional paper), and moulded pulp as fibre-based packaging within the scope of the guidelines. For the purpose of the guidelines, the paper content of packaging should be at least 50% to qualify as fibre-based.
Fibre-based packaging material can incorporate papermaking fibres, fillers, coatings, pigments, binders, and other wet components, as well as a range of "dry strength" agents and chemicals like printing inks, varnish, adhesives, and barrier layers. 4evergreen says that toxic elements – including mutagenic, carcinogenic, and endocrine-disrupting chemicals – must also be avoided as a pre-requisite.
In this initial report, 4evergreen considers the recyclability of these packaging types in standard paper mills. According to 4evergreen, the standard recycling process usually involves (re)pulping, where paper is disintegrated with the purpose of separating out fibres from other materials; deflakers, which separate the fibre bundles and break down any pieces of paper that are not defibred properly; and coarse and fine screening, the process of removing impurities from the pulp and separating fibres from potential contaminants.
The Circularity by Design guideline was developed by 29 packaging design experts and reviewed by 114 industry leaders.
Hans Wortman, 4evergreen chair and head of PfR sourcing at WEPA Group, comments: "As an alliance, we are extremely proud of this achievement. Hundreds of hours and many resources have been poured into these guidelines, and this is down to the drive of our members to build a circular and low-carbon future."
Defining the recyclability of fibre-based packaging
"Recyclable packaging implies systems enabled for industrial-scale recycling," 4evergreen writes in the guidelines. "Generally, the recycling processes seek to deliver a safe and viable substitute for so-called "virgin material" […]. Recycling in the sense of this Guideline does not include energy recovery."
To provide clarity on the definition of fibre-based packaging recyclability, 4evergreenproposes four categories: 'Fully compatible with standard recycling process', 'Conditional recyclable with standard recycling process', 'Not recyclable with standard recycling process', and 'Compatibility with recycling processes unknown'.
For fibre-based packaging that falls into the 'Compatibility with standard recycling processes unknown' category, this means no current guidance on its recyclability is available and that further testing is required to examine its recyclability in accordance with the standard recycling process.
In the next category, 'Not compatible with standard recycling process', 4evergreen identifies "major issues during sorting and/or recycling" for these fibre-based packaging types, in addition to "non-feasible output quality". Therefore, the available evidence suggests that packaging in this category has low compatibility with the standard fibre-based recycling process.
Sorting is not guaranteed in all cases for fibre-based packaging considered 'Conditionally compatible with standard recycling process', according to 4evergreen. The efficiency of the recycling process is reportedly affected, potentially compromising the output quality after recycling.
For 'Fully compatible with standard recycling process', 4evergreen expects fibre-based packaging in this category to contain no components that disturb the recycling process and for there to be a positive output quality after recycling for a target product. Therefore, test results should show that fibre-based packaging in this category has "good compatibility" with the standard recycling process.
Recommendations for fibre-based packaging design
The guidelines offer design guidance for seven key components: fillers, additives and agents; barrier coatings and polymer content; inks and varnishes; adhesives; decorative metallic components; base materials and alternative fibres; and product contamination or residual content.
Some fibre-based packaging can contain mineral-based additives, the first category considered in the design recommendations. This includes dry strength additives to improve the mechanical properties of paper (such as tensile and compression strength), fillers to add to the optical properties of packaging (like brightness and printability), and grease-resistant agents, which are often used for applications where fatty and oily food may be packed in direct contact with paper.
"The combination of paper and board with fillers and chemical additives must be implemented in a way that does not hamper recycling while ensuring that the expected functionality of packaging is fulfilled," says 4evergreen.
The group adds that priority should be given to "packaging materials that do not limit future or end uses of the recycled fibres" and that any substances of "very high concern" within the EU's REACH regulation should be excluded. Furthermore, it recommends that companies consider replacing fluorochemicals with alternatives due to environmental concerns, while only using treatments where they are necessary for functionality.
When it comes to barrier coatings and polymer content,4evergrene says that fibre-based packaging "do not have intrinsic barrier properties". Barrier layers are often added to protect food and non-food goods from oxygen, humidity, and contamination from mineral oils and hazardous elements.
Some adhesive barrier films based on PET, PE, and aluminium were identified as 'Conditionally compatible with standard recycling processes' by the guidelines. According to 4evergreen, thermoplastics and wax coatings are incompatible with the standard recycling process for fibre-based packaging.
4evergreen therefore cautions that "the introduction of barriers in fibre-based packaging may have negative impacts of recyclability", such as reduced yield, increased processing times, and impact on the visual appearance of the finished recycled paper product, although it acknowledges that some specialist facilities may be able to mitigate these impacts.
Ink and varnishes are used to colour the substrate surface to produce images and texts for fibre-based packaging design. 4evergreen claims that "the design areas with a high share of carbon black-based inks or metallic inks might cause problems in the recycling process", requiring further sorting tests to determine the exact threshold of interference. However, overall, the guidelines suggest that "based on industry feedback, inks and varnished […] typically do not cause problems in standard recycling processes".
As for adhesives, which are used to form, seal and close fibre-based packaging, 4evergreen identifies "multiple chemistries and applications" in use by the industry. Because "adhesives can impact the yield and quality of the recycling process", 4evergreen recommends that "the amount of adhesives used in a given paper or paperboard item should be optimised to the minimum amount required to achieve its function" to reduce interference and facilitate easy removal during recycling.
4evergreen says that demand for metallicized fibre-based products is growing alongside the demand for flexible packaging. However, the group does not consider PP/PET metallicized laminates compatible with the standard recycling process and cautions against fully covering the surface of fibre-based products with metallization as this can cause detection issues during sorting. Therefore, some metallic components can reportedly be problematic during paper recycling and sorting, and evergreen recommends hot stamping or cold transfer over lamination.
Base material and alternative fibres are materials such as hardwood and softwood, which are used to give fibre-based packaging specific properties, and alternatives like bagasse, bamboo, straw, grass, and other plant fibres. While their impact on the recycling process is apparently "subject to ongoing investigation", especially as new alternative fibres enter the market, 4evergreen notes that "most mills are set up to reprocess wood-based fibres" and their use is thus encouraged.
As for product contamination and residual content, this covers food and non-food components present in the packaging when it is disposed of. These can apparently be cause for concern as they can lead to excessive microbial growth, infestations of insects or rodents, and require more intense cleaning processes. The guidelines acknowledge that there are effective technologies available to reduce contamination or even entirely remove residues, while minor contamination can be tolerated by most standard recycling facilities.
On this note, 4evergreen says that design can be enhanced to ensure that residual content on the packaging does not hinder the paper recycling process. This could potentially include tear-off layers, designs that allow a surface that has come into contact with food to be cleaned, and informing end-users to remove product resides before disposal.
Further considerations
4evergreenalliance concludes that fibre-based packaging that is not recyclable in standard mills could potentially be recycled in specialised recycling mills or deinking mills, meaning that its recyclability is not ruled out.
Specialised mills can be used "to recover a viable amount of fibre during milling" with enhanced equipment. 4evergreen recommends the use of the Cepi Harmonised European Laboratory Test Method for determining whether packaging is suitable for enhanced recycling processes.
Meanwhile, deinking mills are "designed for pulping, cleaning and deinking graphic paper grades", such as newspapers, as well as white/bleached fibre-based packaging types if it fulfils certain requirements. Although the graphic paper market appears to be shrinking, "suitable white fibre-based packaging materials could be a potential future fibre source for high-value recycling of bleached fibres", according to 4evergreen.
The 4evergreen alliance is in the process of designing recommendations for deinking and specialised recycling mills, hence their exclusion from the initial guidelines. The group is currently finalising the Recyclability Evaluation Protocol and Guidance on the Improved Collection and Sorting of Fibre-Based Packaging for Recycling.