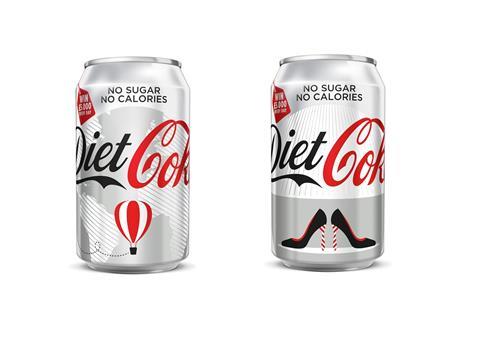 Coca-Cola Great Britain is launching new Diet Coke limited-edition can designs to celebrate its latest on-pack promotion.
Offering consumers the chance to win £5,000, every day for six weeks, the cans celebrate the brand's passion points in fashion, beauty, music and travel.
Promotional packs of Diet Coke and Diet Coke Caffeine Free have been designed to appeal to the brand's 4.1million weekly drinkers and attract new drinkers. By purchasing a pack, consumers have the opportunity to win £5,000 on a prepaid credit card to put towards a dream purchase.
The promotion will run from the 11th September to 22nd October and will appear on a range of formats, including 330ml cans, multipacks, and 1.75L and 500ml PET bottles.
Natalie Whitehead-Farr, Senior Brand Manager for Coca-Cola Great Britain comments: "The new packs have been designed to appeal to Diet Coke drinkers, illustrating their passion for travel, music, beauty and fashion, and giving inspiration for how they might spend their £5,000, should they win. With such an incredibly loyal audience, it is great to be able to reward them in this way, and continue what has already been a full and engaging programme for the brand this year."
With the £419m brand worth almost half of the value (47%) of the total light cola market, the promotion is the latest phase of Diet Coke's Get The Gang Back Together marketing campaign. Launched at the start of 2017 with the announcement of brand ambassador Holly Willoughby, the campaign continues with further TV, digital and out-of-home advertising, as well as brand ambassador activity.
More info: