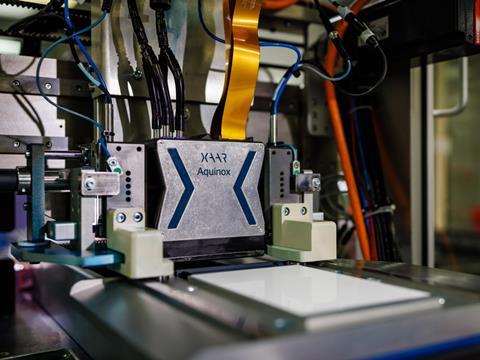 Inkjet technology manufacturer Xaar has launched its new printhead, the Xaar Aquinox, which aims to improve print quality, nozzle open time and energy efficient operation for aqueous inkjet printing.
The company states Aquinox is part of Xaar's ImagineX platform and its aQ Power technology, which includes new water compatible materials capable of coping with an extended working range of pH levels; a new drive system enabling drop ejection; and combined with Xaar's ink recirculation TF Technology increases the nozzle open time.
Xaar also claims the Aquinox is compatible with multiple aqueous fluid types and can be used for printing on textiles, highly absorbent substrates, or thick film coatings. Apparently, the firm's technology and architecture contributes to energy efficient operation through reducing the power required for printheads, printers and end users.
John Mills, CEO of Xaar, said: "Having collaborated with leading developers and manufacturers of aqueous inkjet inks to rigorously assess and improve performance, the Xaar Aquinox is equally capable of handling dye-based and pigmented fluids and inks, across a wide range of applications."
"From textiles to ceramics and packaging, we see the Xaar Aquinox breaking new ground, enabling new water-based print applications, many of which were previously not possible with inkjet."
Developments in ink technology this year have also come from VerifyMe and INX, who announced VerifyInk in June (a covert ink technology which reportedly runs on continuous inkjet printers) and CCL Label, a finalist in the Machinery category of the Sustainability Awards 2022 with its Hybrid ASD Technology, which it says enables printing embellishments to be produced with digital hybrid inkjet technology.