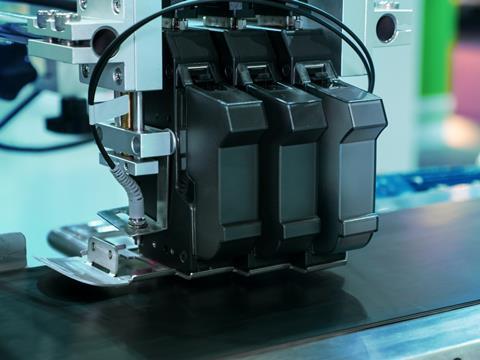 Velox Ltd. has announced Micro-Pixel Drop Shape Control, its latest ink technology innovation designed to provide high-quality direct-to-shape digital printing for extruded plastic and laminated tubes.
Without sacrificing the up to 250 cpm decoration speed that Velox already claims to have achieved, the new technology – part of the Velox IDS-PT Series – aims to provide high ink efficiency alongside photorealistic accuracy in images, fine graphic elements, and ultra-sharp text and lines. Each drop is said to be regulated as it hits the substrate to enable the same volume to spread and cover large areas while enabling drop diameters that are up to 60% smaller than previous Velox ink technology.
According to the company, customers testing Micro-Pixel Drop Shape Control technology have compared the accuracy and sharpness of the inking to analogue printing while noting the improved quality of images and gradients. It is also suggested that the development combines the benefits of flexo, screen, and dry offset printing into one machine.
Other perks are said to include wide colour gamut, high adhesion and abrasion resistance, and substrate and surface-agnostic performance. Velox expects that the cosmetics and personal care sectors will have a particular use for the technology, utilising it to print the small text and fine details commonly featured on their packaging.
"Velox seeks to deliver the most innovative and cutting-edge technology in the digital decoration market to meet brands' requirements," said Marian Cofler, CEO and co-founder of Velox. "To accomplish this goal, we invest heavily in R&D to discover digital print quality breakthroughs, while continuously expanding our system architecture and ink capabilities to meet market demands. Micro-Pixel Drop Shape Control is a fine example of this, and feedback from customers is extremely positive."
Last week, Comexi launched its first digital printing solution, Digiflex; it claims to use low-migration inks to print directly onto food-safe packaging without risking contamination. The machine is said to reach speeds of 220 m/min and cut down on material waste.
Sun Chemical's FSR range, announced earlier this year, supposedly facilitates direct printing onto food and pharmaceutical products using edible inkjet inks. The company's previous unveiling of a contact-safe ink range was thought to improve the colour vibrancy and accuracy of its SunPak Original ink.