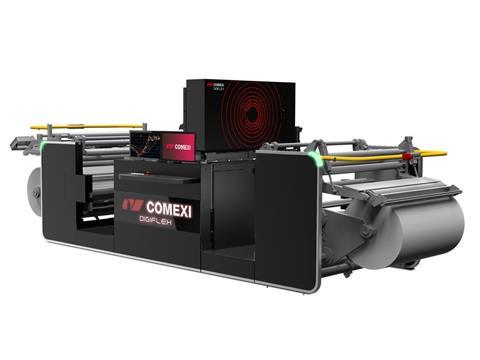 Comexi has unveiled Digiflex, its first digital printing solution, which uses low-migration inks to print directly onto food-safe packaging.
Digiflex supposedly facilitates double-sided printing without treatment and printing on pre-printed material. Because it is digital, it is said to reduce set-up times and improve lead times, as well as reach a maximum speed of 220 m/min and reduce material waste.
According to Comexi, the resultant print is of high quality with a minimum code size of 8x8 mm, reaching resolutions of up to 1200x1200 dpi and achieving printing and registration consistency. It has reportedly yielded positive results in tape, ethanol, and scratch quality tests.
The company anticipates that Digiflex will be used to print variable data and allow customers to prevent counterfeiting, alongside providing consumers with information through QR or DOT codes, alphanumeric text, variable information, numbering barcodes, Datamatrix, and images.
According to Pedro Jiménez, digital technical sales director at Comexi, Digiflex "is a digital variable data print press that offers extremely high printing speed, superb quality results, as well as the highest level of performance and production. Digiflex is an all-in-one solution that includes the integration of the curing process, tension control, printing registration, corona treatment, and a video inspection system."
He continues: "The Digiflex codes track and trace each product, complying with legal requirements as well as contributing to the circular economy, serialization and security of the supply chain," which not only "helps boost customer awareness, brand loyalty, and feedback acquisition, but also enables the analysis of consumer behaviour. Finally, the Digiflex offers security, anti-counterfeiting, and authenticity solutions, which is highly valued by brand owners."
Sihl previously released its ENDURO and PICOFILM ranges for decentralised, on-demand printing of tearproof loop tags, hangtags, and stick-on labels in short runs. The company claimed that digital printing lowers CO2 emissions as it negates the need for transport routes.
Similarly, Tonejet's Cyclone C4+, which enables direct printing onto cans to replace shrink wrap and labels, was a finalist in this year's Sustainability Awards, ultimately winning in the 'Machinery' category.