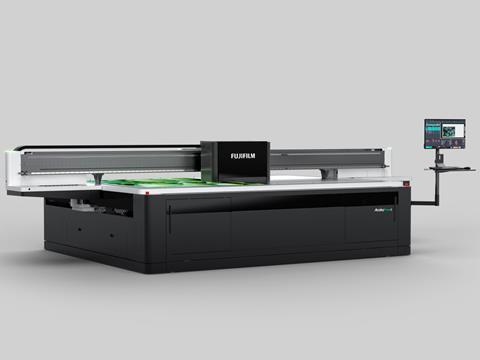 Fujifilm has unveiled its Acuity Prime L flatbed printer with an ink system specific to its series; the solution is expected to increase productivity and ROI for print service providers.
The Acuity Prime L offers a maximum print area of 3200mm x 2000mm and apparently operates at a headline print speed of 202m2/hr. In an effort to achieve maximum flexibility, the printer utilises a dual zone function to print side-by-side jobs; it also features six vacuum zones and sixteen media location pins.
Fujifilm has also developed an ink system, Uvijet HM, especially for the Acuity Prime series. It is expected to produce a wide colour gamut and provide 'excellent' adhesion for a range of substrates, with the ink range producing high-quality and vibrant images, according to the company.
Adhesion is also improved by the Acuity Prime L's jettable primer, which negates the need for offline pre-treatment of substrates before the printing process begins – thus saving customers both time and money.
The printer is available with up to seven ink channels – CMYK, plus white, clear, and primer – and, in combination with Uvijet HM inks, hopes to offer versatility, value, flexibility, and customisability for print businesses.
"Following the success of the Acuity Prime 20 and 30 printers, we are pleased to announce the commercial availability of the Acuity Prime L," says Anda Baboi, marketing manager at Fujifilm Wide Format Inkjet Systems. "Larger in size, it enables businesses to increase their productivity without compromising on speed or quality."
This launch follows that of Fujifilm's ApeosPro C series of light production digital printers, which features a high-resolution LED printhead in a reported world first.
Similarly, Canon has launched its ProStream 3000 series of high-speed, web-feed inkjet presses for commercial print.