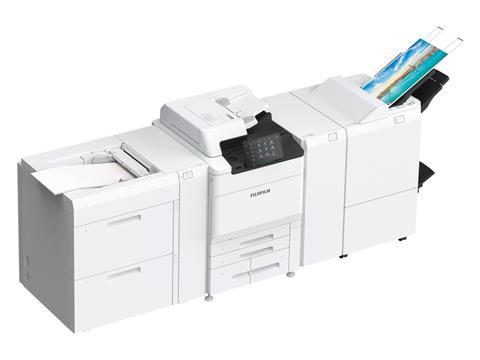 Fujifilm has announced that its ApeosPro C series of light production digital printers has become commercially available, highlighting its 'world's first' high-resolution LED printhead.
Three models are available within the range – the ApeosPro C650, intended as an entry point for businesses with lower production requirements at an operation of 65 A4 ppm; the standard ApeosPro C750 model, running at 75 ppm; and the premium ApeosPro C750 at 81 ppm. The series has a sheet capacity of up to 7,360, according to Fujifilm.
Designed for speed and convenience, the printers are expected to provide high-quality print on a wide range of substrates and for various applications in relation to time-sensitive business opportunities. The series is said to be compatible with lightweight paper, cardstock, embossed paper, and other materials, and while its capability apparently extends to paper sizes of up to 330 x 1300 mm, it is also thought to be particularly suited to confidential applications that are not produced for outsourcing, such as samples or mock-ups.
A reported benefit of the series comes in the form of its 2400 x 2400 dpi LED printhead – the first of its kind on the market, according to the company. In the absence of a drive mechanism, the exposure unit does not vibrate, which is said to benefit the quality of the image reproduced via its thin LED beam.
Furthermore, the printhead itself is reported to consume low levels of energy, which in turn decreases the costs of operating such machinery.
Meanwhile, the series also features Fujifilm's Super EA Eco toner. When applied in combination with the LED printhead, it is anticipated to provide smooth gradations, vibrant colours, and precise reproductions of fine lines and text in printing applications. Its 'Gloss' function is also available to manufacturers to provide an optional glossy finish to print.
The ApeosPro C series operates on the CMYK colour model and apparently supports paper stocks of between 52 and 350 grams, as well as heavy, coated, and speciality media.
"We were excited to preview this series at our Peak Performance Print event in Brussels last year and delighted that we're now able to announce commercial availability," says Mark Lawn, head of POD Solutions at Fujifilm Europe. "Whether to support collaborative working securely in the office, to produce high quality marketing materials, or to produce brochures and promotional materials, the ApeosPro C series will enable a wide range of businesses to take advantage of the superb print quality and diverse range of applications it offers.
"We're delighted to be bringing the benefits of Fujifilm technology to a broader range of users who, despite not having production-level print volumes, still need a solution which doesn't compromise their quality requirements and media versatility."
Markem-Imaje's SmartLase F250 was released last year as an ink-free solution for permanent coding on high-subsidy substrates for product identification and packaging applications.
Later, Velox Ltd.'s Micro-Pixel Drop Shape Control sought to apply high-quality direct-to-shape digital printing for extruded plastics and laminated tubes, while the Xaar Aquinox printhead by Xaar sought to improve print quality, nozzle open time, and energy efficiency in the operation of aqueous inkjet printing.