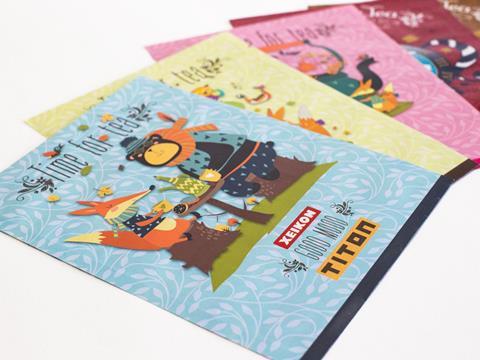 Sappi and Xeikon have come together to print a new toner formulation directly onto flexible, paper-based packaging materials – a solution thought to preserve a pack's recyclability and optimise the speed and flexibility of the printing process.
Designed to prevent the need for additional varnishing or lamination to protect direct print, the new TITON toner formulation is said to combine the odourless, food-safe properties of dry toner with the resistance to chemicals and mechanical abrasion found in UV inkjet ink. It can reportedly withstand temperatures of up to 220-260°C in order to protect a product and maintain the integrity of a pack.
As it does not require a primer, varnish, liquid toner, or additional coating to ensure its functionality, according to the companies, TITON expects to facilitate easy recycling and recovery in paper waste streams, thus conserving valuable materials and combating packaging pollution in the environment.
The formulation has been tested on Sappi's one-side coated, heat-sealable Seal Silk and uncoated, heat-sealable AvantGuard S Natural high-barrier paper products, both intended for flexible food and non-food packaging. As a result, the AvantGuard S Gloss variation is currently undergoing testing, while ACM Plastic has announced a permanent transition into using Sappi barrier paper.
"We achieved the best printing results with our innovative functional papers Sappi Seal Silk with a 67 g/m2 basis weight and Sappi AvantGuard S Natural in 75 g/m2 grammage," explains Sibylle Hajostek, market manager Packaging Solutions at Sappi. "Both papers have an exceptionally high-quality appeal and were developed specifically for the flexible packaging market.
"The results we achieved in combination with the TITON technology left absolutely nothing to be desired – neither visually nor functionally."
Xeikon's recently introduced TX500 dry toner technology is the first digital press to utilise TITON technology, and by cutting out additional set-up time for coating, laminating, and traditionally required maintenance, the paper-based substrates hope to cut down on operation time and reduce waste. Applications that could only be achieved with conventional flexo presses in the past can now be achieved at speed and with additional flexibility, the companies claim.
It is anticipated that the TITON formulation and Xeikon TX500 will meet the 'strong growth' of the paper-based flexible packaging market – a development attributed to increasing demand for resource-saving, recyclable, and plastic-free alternatives from end-users, brand owners, and converters.
According to testing, the technology meets the criteria of the Nestlé Standard on Printing Inks for Food Packaging, the EUPIA Exclusion Policy for Printing Inks, the Swiss Ordinance, the German Ink Ordinance, and other migration tests. As such, the application of TITON technology to Sappi's paper-based packaging is said to have enabled brand owners to repackage baked goods, confectionary, sugar, flour, herbs, spices, tea, and other food-contact packaging in paper-based alternatives.
Frank Jacobs, Market Intel & Senior Product manager at Xeikon's parent company Flint Group Digital, adds: "Over and above ensuring a good print result, the inks need to be extremely resistant throughout the packaging process and insensitive to temperature, e.g. for heat-sealing. And, especially for applications in the food sector, they also need to be odourless, tasteless, food-safe and migration-proof.
"The print image we created in combination with the Sappi papers was nothing less than phenomenal! Results like these on paper-based substrates can otherwise only be achieved with flexo printing.
"It would appear that an engineer at ACM couldn't wait to test more substrates from Sappi. Just like the other two grades, AvantGuard S Gloss has so far shown the best visual and functional results – without primer or varnish. To say the least, it's very promising. And we're just at the beginning of this journey!"
Last year, Comexi's Digiflex digital printing solution was unveiled. It utilises low-migration inks to print directly onto food-safe packaging, apparently enabling double-sided printing without pre-preparation, reducing set-up times, and improving lead times.
Velox Ltd. also revealed its Micro-Pixel Drop Shape Control ink technology innovation, which is designed to provide high-quality direct-to-shape digital printing for extruded plastic and laminated tubes.
Additionally, Sun Chemical's FSR range of edible inkjet inks is said to be suitable for food and pharmaceutical customisation with verified direct food printing, including onto baked goods.
If you liked this article, you might also enjoy:
The Lidl approach to packaging sustainability
How did Brazil achieve its 100% aluminium can recycling rate – and can it be replicated in the EU?
Experts have their say on the EU's Packaging and Packaging Waste Directive revisions
A deep dive into the most important packaging sustainability trends and solution