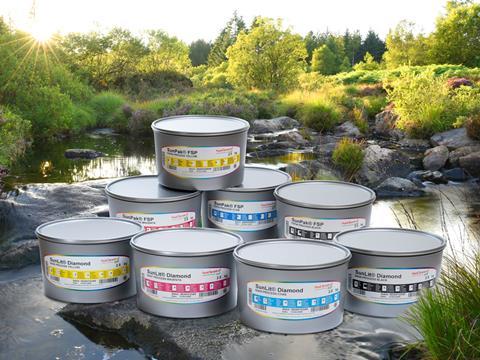 Printing ink suppliers Sun Chemical unveils SunPak DirectFood Plus, to be added to its direct food contact (DFC) SunPak inks range for sheetfed offset paper-based printing for packaging.
The development of the new ink is a result of the ongoing partnership between Sun Chemical and the German printing inks manufacturer, Epple Druckfarben. In 2019, the companies joined resources to produce the BoFood Organic ink portfolio, available in Europe under the brand name SunPak Original – the predecessor to Sun Chemical's new range.
Sun Chemical says the new Sunpak DirectFood Plus range offers enhanced pigmentation and printability. This reportedly gives more colour vibrancy and accuracy, with wider colour space, when compared to SunPak Original.
According to the company, industrial testing with converter partners across Europe has shown that SunPak DirectFood Plus delivers "robust" lithographic stability on the same level as its standard Low Migration Inks, such as SunPak FSP.
In addition, the combination of SunPak DirectFood Plus with its SunSpec SunStar DFC water-based barrier coats apparently offers printers and brand owners an alternative to plastic barriers and inserts in paper packaging.
Nicolas Betin, director of product strategy and EMEA and global sustainability business leader at Sun Chemical, comments: "Sun Chemical can see high value for our customers in working with Epple to develop a direct food contact ink series that covers the colour spectrum.
"These jointly developed pigmented sheetfed inks allow us to expand our portfolio and enable our customers to offer more recyclable packaging to brand owners."
Stefan Schülling, member of the executive board at Epple Druckfarben AG, adds: "We are excited to be expanding our existing relationship with Sun Chemical.
"The original BoFood Organic has been a unique innovation and we are extremely proud of creating a worldwide patented offset ink that has been approved for printing on the inside of food packaging.
"The new BoFood DFC range enables us to address even better customer demands for eye-catching, high-quality and food-safe packaging."
Sun Chemical continues to provide innovative print and labelling solutions for a range of packaging applications. Earlier this year, Sun Chemical partnered with CCL Container manufacturers to create an aluminium can with a matte background, using a spot varnish ink technology that eliminates the need for traditional varnish. The cans were named the winners of the 'Prototype' category at the International Organisation of Aluminium Aerosol Container Manufacture's (AEROBAL) 2021 competition.