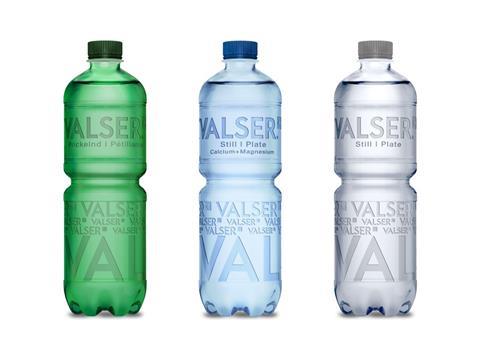 Valser, a Coca-Cola brand, has launched beverage bottles without labels, which feature the product information and logo embossed into the bottle with the barcode printed on the top of the lid.
The first Valser products to be offered without a label will be its VALSER Sparkling, VALSER Still, and VALSER Still Calcium & Magnesium, which the company says are already available and will be tested on the market. The bottles will also be offered in a new 750ml size.
According to Valser, the product information and logo will be embossed onto the bottle body. Meanwhile, the barcode required for retail sales will apparently be printed on the top of the lid.
The company claims that dispensing with labels allows it to reduce the amount of packaging material used, in turn requiring less water and allowing for a reduction in CO2 emissions.
Thomas Krennbauer, general manager of Coca-Cola HBC Switzerland, comments: "In our view, label-free bottles are the future. With Valser, Coca-Cola HBC Switzerland is once again setting the standard with innovations for sustainable packaging."
In 2019, Valser launched 100% rPET bottles, claiming to be the first mineral water brand in Switzerland to do so. The company has also used purified CO2 captured from the air to carbonate its beverages, in partnership with Climeworks.
The Danone brand, Evian, has also previously revealed a 400ml bottle for its mineral water made from 100% recycled PET (excluding the cap) and without a label, featuring an embossed logo on the bottle body.