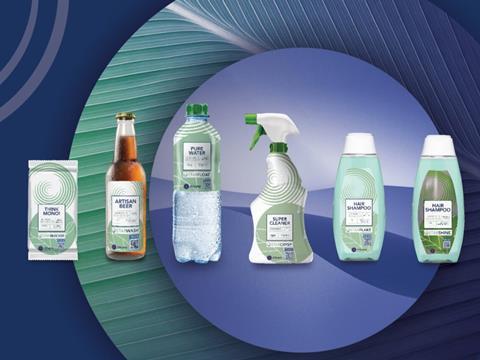 All4Labels Global Packaging Group is set to launch STAR Products, a portfolio of labelling and packaging solutions designed for recyclability and including recycled or renewable materials, and STAR Services, aimed at supporting customers in enhancing sustainability across the labelling value chain.
The STAR Portfolio will be progressively released to the market in the second half of 2022, and will include Star Products and Star Services for multiple labelling and packaging applications.
According to All4Labels, the portfolio will feature a range of fully recyclable products: STARPLUS, pressure-sensitive labels and adhesives for plastic containers; STARCRYSP, shrink sleeves made of crystallizable material printed with washable inks for PET bottles; and STARBIO, paper packaging solutions combined with bio-based coatings that are apparently suitable for direct food contact.
This category will also include STARCYCLE and STARBLOCKER, which the company says are flexible mono-material packaging solutions ideal for food applications, and STARTUBE, mono-material tubes for personal care products.
In addition, the company says that Star Products will include solutions to support recyclability. The company explains that the STARFLAKE and STARWASH products are detachable pressure-sensitive labels for PET bottles and returnable glass bottles respectively. Also in this category, STARFLOAT reportedly offers floatable shrink sleeves for plastic bottles and STAR360 provides wrap-around labels with what the company claims are non-bleeding inks for PET bottles.
Meanwhile, Star Products will also feature a category made of reduced, recycled or renewable materials, the company says. STARLOOP, for example, will apparently offer post-consumer recycled content for the core All4Labels portfolio of products. This category will also include STARNATURE, which the company claims is a bio-based portfolio of materials, also for the core All4Labels portfolio.
In terms of reduction, All4Star says it will offer STARSHINE, premium metallic embellishments that allegedly minimise CO2 emissions for pressure-sensitive labels, and STARDOUBLE, double-layers with up to 40% reduced material thickness aimed at home and personal care, and pharmaceutical and chemical applications.
As for Star Services, All4Labels explains that this will include STAR Innovation Hubs and Centres of Excellence, which will apparently provide laboratories, equipment, scientists, and experts with a focus on sustainability and innovation. All4Labels intends for these facilities to support the industry, customers, and associations in developing and supporting the sustainability performance of packaging and labelling solutions.
STAR Application, also offered as part of the new portfolio of services, will be a team of labelling and packaging experts dedicated to ensuring the most efficient and sustainable applications of Star Products at customer locations, according to All4Labels. Additionally, the company will launch STARLIFE, which it says is a new Life Cycle Assessment (LCA) tool to calculate the environmental impact of labels and packaging products throughout the entire value chain.
All4Labels adds that STAR All4Graphics will be a Business Unit that offers technical design and other pre-product activities required to actively support customers and brand owners in engineering and producing labelling solutions in the most sustainable format.
Adrian Tippenhauer, CEO of All4Labels, comments: "As a result of our ongoing efforts towards the delivery of sustainable products and services, we are launching the STAR Portfolio to let our commitment in this field perfectly match with the needs of our customers and of our planet.
"We are a reliable partner for every organization that is looking for sustainable, innovative, and digital solutions capable of contributing to the achievement of the UN Sustainable Development Goals, while maintaining the highest quality standards."
Massimiliano Martino, CTO of All4Labels, adds: "We continue innovating to best serve customers with the highest level of quality, performance, and ecofriendliness, and we are committed to deliver the most positive impact when it comes to Sustainability.
"We are pleased and proud to launch STAR, which is the result of our extensive investments in research, development, and modern production technologies."
Gabriela Neves Ferri, vice president of R&D and sustainability at All4Labels, concludes: "It is essential to keep on investing in research and development to deliver the most innovative products and services, considering not only the materials, but also the footprint that the entire production process leaves on the planet.
"Our aim is to satisfy all the sustainability challenges of brand owners, retailers, and regulators with a wide range of top quality and environmentally friendly solutions."