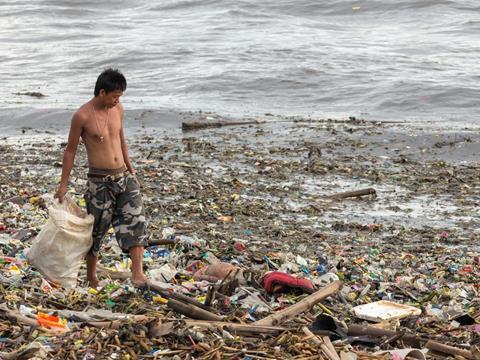 A new report by Minderoo Foundation in collaboration with Clyde & Co and Praedicat warns that the reported impacts of plastic pollution on human health could incur steep costs in liability claims against the petrochemical industry – over $20 billion between 2022 and 2030 in the US alone.
Supported by the United Nations Environment Programme's Finance Initiative, the study identifies manufacturers of chemical additives as being the most exposed to litigation risk. It also posits that waste created by plastic polymer manufacturers is degrading into micro- and nanoplastics, both polluting the environment and posing health risks as it enters the human food chain.
The total cost to society from plastic pollution is thought to be over US$100 billion – covering threats to human health such as environmental clean-up, ecosystem degradation, shorter life expectancy, and medical treatment. Therefore, the study expects plastics to follow in the footsteps of oil, gas, and chemicals, with companies now being held legally and financially responsible for the damage their products might cause to the environment and human health.
Although it argues that previous financial claims have fallen through due to the difficulty of directly linking pollution back to its source, the report predicts that the evolution of scientific study and legal doctrine will give rise to plastic pollution liabilities.
"For plastics producers, and above all their shareholders and insurers, now is the time to be asking yourself hard questions," says Dr. Andrew Forrest AO, chairman of Minderoo Foundation. "What liabilities have your historical emissions left you exposed to? Are you doing enough to eliminate them in the future? What will your personal liability be for only looking at your profit and loss statement?
"The question is no longer are you a good plastics industry director? It is, what are you doing to help society reduce then eliminate the burden of ubiquitous and toxic plastic pollution, while you profit from its harm?"
"The plastics issue is something that we've been referring to as the next climate since it is an enormously widespread and systemic environmental and health risk," says Bob Reville, CEO of Praedicat. "It may, in fact, have more potential for insurance losses because of the way in which it's driving direct bodily injury.
"At the same time as the insurance industry incorporates the science around plastic risks into its underwriting, it can help corporations mitigate the potential for loss, both for the companies and the environment. The information in the report can provide a roadmap for better underwriting."
Claudia Donzelmann, global head of Regulatory and Public Affairs at Allianz and a member of the project advisory board, adds: "It is important that we better understand the risks associated with plastics and move beyond buzzwords. The depth of analysis in this research is an important contribution. We need more transparency, more sharing of knowledge, as that is what leads to action."
Scientists from Northwestern University recently claimed to develop a method of breaking down PFAS compounds and tackling their negative health effects – which are thought to include increased risks of cancer, decreased fertility, and developmental effects in children.
McKinsey & Company also called upon packaging companies to actively push for the reduction of BPAs, PFAs, and similar chemicals in their products. The company released another report laying out a roadmap towards the reduction of plastic waste, which includes governments financing new waste management systems and collaboration across the plastics value chain.