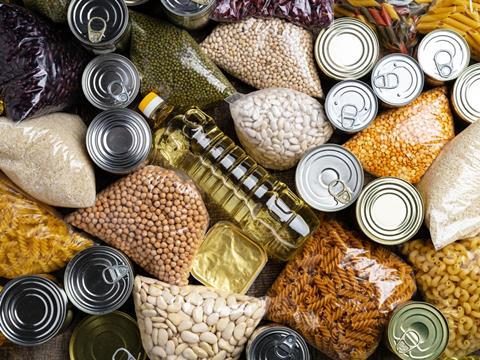 Chemicals frequently used in packaging, including BPA and PFAS, are set to be more strictly regulated by both the European Union and the US in the coming years as awareness of their environmental and health implications expands. According to McKinsey, packaging companies should take a proactive approach to tightening regulations on chemicals, with technology, supply chain collaboration, and clear internal and external communication identified as key strategies for successful adoption.
Re-evaluating BPA
Bisphenol A (BPA) is an industrial chemical used in the production of polycarbonate plastics for applications including food containers, reusable beverage bottles, and tableware. It is also present in epoxy resins, which are used as protective coatings and liners, such as for food cans and bottle tops.
A key concern related to BPA is that traces of the chemical can migrate from food contact materials into food and beverages. The Mayo Clinic cites research that suggests BPA can disrupt endocrine (hormonal) systems, as well as a potential link between BPA and increased blood pressure, type 2 diabetes, and cardiovascular disease.
The European Food Safety Authority (EFSA) has previously concluded that "BPA poses no health risk to consumers of any age group (including unborn children, infants and adolescents)", claiming that everyday exposure remained "considerably under" the tolerable daily intake (TDI). However, McKinsey notes that in December 2021, the EFSA published a revised risk assessment of BPA, followed by a draft scientific opinion re-evaluating the TDI in 2022.
According to McKinsey, the re-evaluation places the TDI of BPA at a level 100,000 times lower than the amount previously stated in 2015. Public consultation on the opinion closed in February 2022, but the final regularity verdict and adoption aren't expected until December 2022. McKinsey says that, if this new regulation is approved, BPA used in all food-contact products would need to be replaced by BPA-free alternatives across EU member states.
Some regulation on BPA is already in place in the EU, including a ban on the use of BPA in the manufacturer of polycarbonate infant feeding bottles implemented by the European Commission in January 2011. In addition, France reportedly prohibited BPA from being used in all food-contact materials in 2015.
McKinsey says that regulation on BPA in the EU has typically been slower than in the US, where a number of companies have apparently already removed BPA from their packaging. Notably, however, the US Food and Drug Administration (FDA) also stated that "BPA is safe at the current levels occurring in foods", mirroring a similar historic position to the EFSA. McKinsey is seemingly expecting further regulation on BPA in the US, in addition to the EU, as consumer and institutional pressure continues to grow.
Factoring in forever chemicals
Perfluoroalkyl and polyfluoroalkyl substances (PFAS) are a group of more than 4,700 chemicals used in packaging applications such as barrier coatings to provide resistance against heat, oil, grease, and water. These are considered 'forever chemicals', as their strong chemical bonds allow them to accumulate permanently in the environment. PFAS are also linked to a number of health conditions, with some being carcinogenic and endocrine-disrupting.
One of the challenges relating to PFAS chemicals is that there are so many, which makes a substance-by-substance risk assessment and management approach inadequate, according to the European Environment Agency (EEA). Despite this, past regulatory approaches have been implemented in phases: McKinsey notes that the FDA eliminated two long-chain perfluorinated compounds from use in food packaging in 2016, while the European Commission is looking to limit non-essential uses of PFAS chemicals – although it is not yet entirely clear how these applications will be identified.
Nonetheless, regulation on PFAS chemicals is rapidly becoming stricter across both the US and the EU. According to McKinsey, Washington was the first state to implement a ban on the "intentional addition" of PFAS in food packaging where safer alternatives were available, although it did not publish a report identifying such alternatives until 2021. Replacing PFAS with other solutions should avoid 'regrettable substitution', whereby the alternative causes the same or additional environmental and health costs, explains the European Chemicals Agency (ECHA).
Other US states are expected to follow suit this year. California, Connecticut, Maine, Minnesota, New York, and Vermont are planning to restrict PFAS in food and packaging containers and materials, according to McKinsey. New York's regulation will take effect first, in December 2022, while a further ten states are reportedly proposing legislation to ban the intentional addition of PFAS to food packaging.
Meanwhile, in the EU, McKinsey says the European Commission's Restrictions Roadmap outlines a ban on groups of harmful chemicals, including PFAS, from use in packaging by 2030. Denmark, Germany, the Netherlands, Norway, and Sweden are also expected to formally propose a restriction on PFAS use within the European Union to the ECHA, which is set to be reviewed in 2023.
Managing uncertainty
In addition to the regulatory developments identified by McKinsey, research into chemicals of concern – and associated calls to implement bans more rapidly – is expanding. For example, a recent study led by scientists from the Food Packaging Forum, ETH Zürich, and the Swiss Federal Institute of Aquatic Science and Technology identified up to 388 chemicals of concern in food contact materials, many of which are considered carcinogenic, mutagenic, toxic to reproduction, endocrine-disrupting, and bioaccumulative. The researchers suggest that phasing out these chemicals should be an urgent priority for the EU's Chemical Strategy for Sustainability, with the growing impetus to switch to more sustainable packaging material types also providing an opportunity to improve material safety.
With new research ongoing, other substances may be identified as a cause for concern and further regulation, or this may even accelerate existing plans outlined by regulators. As McKinsey highlights, chemical coatings like BPA and PFAS are used in conjunction with almost all packaging types, including rigid plastic containers, metal cans, and flexible paper. The potential implementation of bans on chemicals of concern can therefore create uncertainty for the whole packaging industry, which, according to McKinsey, could disrupt or delay the adoption of regulations.
McKinsey suggests that one option is to be reactive, which would involve waiting on regulatory guidance on chemicals like BPA and PFAS to assess – and thus act on – the requirements set out by authorities. However, the organisation warns that this approach could elevate risk and further generate uncertainty. This approach could result in companies failing to comply with regulations if they wait too long or rush unfavourable substitutions to meet rapidly approaching deadlines; in the meantime, customers may enact their own phase-outs or move to new suppliers that have made a quicker shift to alternatives.
Therefore, McKinsey urges industry leaders to take a more proactive approach that anticipates upcoming regulations. The organisation points to either a partial substitution of or a complete ban on chemicals likely to be impacted by upcoming regulatory frameworks.
In the case of a partial substation, McKinsey suggests a Pareto methodology that applies the 80:20 rule – in this case, removing or replacing a significant volume of chemical substances likely to be more tightly regulated in the future. As an example, McKinsey claims that internal BPA coatings have five times the migration risk compared to external coatings due to their direct contact with food and therefore notes that substituting internal BPA coatings would mitigate a significant proportion of the risk.
For full bans, McKinsey says that companies should consider implementing this for both internal and external coatings. This would apparently enable proactivity even if substitutions prove to be more challenging and time-consuming, which the organisation suggests could be the case where industry experience is limited.
Putting change into practice
McKinsey outlines some key strategies that it deems necessary for packaging companies to implement comprehensive and rapid responses to upcoming regulations on chemicals. The first is the use of data and IT, which the organisation says can be used to ensure transparency on substances used in an organisation's own production process and by its suppliers. With proactivity as the priority, McKinsey suggests introducing a future-proof traceability solution for chemical substances, allowing companies to adapt over time to ongoing regulatory updates.
Mapping where chemicals of concern are used in the packaging production chain and then creating a suitable list of alternatives will help to lead research and development, according to McKinsey. This could apparently identify alternatives that might have already been qualified for use, helping with an early transition away from chemicals that are set to be regulated.
Alongside research and development, McKinsey says that companies would benefit from an operational approach that outlines a clear plan and expected timeline for the transition away from particular substances. The organisation cautions that this could prove to be a complex task, and adds that companies should consider freeing up additional qualifications and testing capacity in plants to ensure compliance with regulatory timelines.
In addition, McKinsey says that developing an updated sourcing plan and launching new requests for proposals can help to ensure that procurement works in tandem with research and development. The organisation adds that companies could consider how to leverage the substitution process to streamline SKU counts, which could reportedly help to boost operational efficiency and offer better buying conditions.
McKinsey explains that, from a commercial perspective, mapping customers impacted by regulations and developing a customer narrative to support a transition plan could also encourage a proactive approach to chemical regulations. This step may require companies to negotiate with customers regarding any price changes and testing timelines that are needed to enact chemical substitutions.
Finally, a primed legal team could help to advise on regulatory changes as they develop, ensuring that companies have access to the information they need to implement proactive responses, McKinsey explains. Over time, setting clear performance-management parameters and holding companies accountable to these will also help to keep track of the changing landscape of chemicals in packaging.
Some packaging companies are already beginning the transition away from chemicals like PFAS. Stora Enso has introduced a range of formed fibre foodservice bowls that are reportedly plastic- and PFAS-free, while Zume's own range of moulded fibre coffee lids also does not contain PFAS. The Eco-Products Vanguard line of sugarcane-based cups, plates, and containers reportedly use proprietary chemistry to achieve grease resistance without PFAS, earning it a GreenScreen Certification Silver designation that ensures there are no regrettable substitutions.
While these examples largely encompass new rather than existing products, this suggests companies are willing to consider how to substitute potentially harmful chemicals. Importantly, all of these approaches combine sustainability targets with consumer safety – supporting the Food Packaging Forum's suggestion that the shift away from chemicals of concern should capitalise on the current momentum of sustainability efforts across the packaging industry.