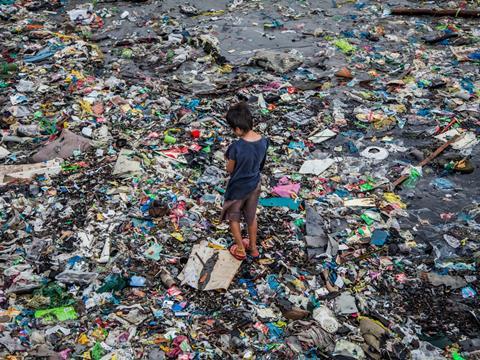 A new report from the United Nations Environment Programme (UNEP) is calling for a re-examination of the chemicals used in plastic products and packaging – saying that some of these have the potential to impact human health, the environment, and the transition into a resource-efficient and circular economy.
In "Chemicals in Plastics: A Technical Report", UNEP suggests that the chemical side effects of plastic pollution are often overlooked. It utilises publicly available scientific research to underline potential areas for action and aims to support the negotiation process to develop an instrument on plastic pollution based on United Nations Environment Assembly resolution 5/14.
It reports that recent studies indicate that over 13,000 chemicals have been identified in relation to plastics and plastic production across a range of applications. Based on chemistry, uses, or sources, ten groups of chemicals are identified as being of major concern due to what the UN describes as their high toxicity, as well as their potential to migrate or be released from plastics – this includes specific flame retardants, certain UV stabilisers, PFASs, and a range of non-intentionally added substances NIAS, amongst other contaminants.
The report suggests that these chemicals can exit plastics across their life cycle, from the extraction of raw materials and production of polymers to the use and disposal of the final plastic product, especially when plastic waste enters the environment. Hazardous substances have reportedly been found in plastic packaging, including food contact materials; electrical and electronic equipment, personal care and household products, synthetic textiles, medical devices, and building materials are also on the list of impacted products and value chains.
UNEP cites scientific data suggesting that, of approximately 7,000 substances associated with plastics, 3,200 of them have at least one hazardous property of concern – and says that these have the potential to impact fetal development, affect male fertility, and cause neurodevelopmental or neurobehavioural disorders in children.
As such, UNEP 'calls for urgent action to address chemicals in plastics as part of the global action on plastic pollution, to protect human health and the environment, and transition to a toxic-free and sustainable circular economy.'
The report was apparently developed in cooperation with the Secretariat of the Basel Convention on the Control of Transboundary Movements of Hazardous Wastes and Their Disposal, the Rotterdam Convention on the Prior Informed Consent Procedure for Certain Hazardous Chemicals and Pesticides and International Trade, and the Stockholm Convention on Persistent Organic Pollutants.
Key experts and representatives from the International Panel on Chemical Pollution also contributed to the findings, and the Governments of Norway, Sweden, and Switzerland are credited for providing financial support in the report's development.
Last March, representatives from 175 nations, including Heads of State and Ministers of Environment, supported a UN resolution to create a legally binding agreement on plastic waste and end plastic pollution. Due to the fact that the UN authored the aforementioned report, it is fair to say that the industry can expect the findings of the report to potentially inform the discussions around this agreement.
In the meantime, the Minderoo Foundation – in collaboration with Clyde & Co and Praedicat – advised caution to companies in the petrochemical industry. It was estimated that, between 2022 and 2030, over $20 billion in liability claims could be made due to the reported impacts of plastic pollution on human health.
A joint statement from investors with combined assets of $10 trillion is also encouraging the phasing out of hazardous chemicals as part of the industry-wide push against plastic pollution.
If you liked this article, you might also enjoy:
McDonald's Director of Sustainability in Europe on the company's approach to packaging sustainability
McKinsey on whether or not on-pack sustainability claims affect consumer spending
Perspectives from industry-leading experts on the EU's Packaging and Packaging Waste Directive revisions
A deep dive into the most important packaging sustainability trends and solutions